'Tendulkar still has 2-3 years left in him' April 12, 2007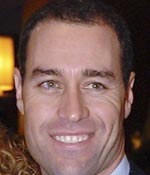 Defending champions Australia beat England by seven wickets in a World Cup Super Eights match on Sunday to maintain their unbeaten run in the tournament.
Chasing England's total of 247, which was powered by a fine 104 from 122 balls from South Africa-born Kevin Pietersen, Australia cruised home in 47.2 overs.
Skipper Ricky Ponting led the charge, scoring 86 off 106 deliveries. He was well-supported by Michael Clarke, who scored an unbeaten 55.
The victory also put Australia back on top of the one-day international world rankings.
Before the weekend's action, South Africa narrowly headed Ricky Ponting's world champions but a shock defeat against Bangladesh on Saturday coupled with Sunday's result reversed the positions.
Former Australia player Michael Bevan in an exclusive chat with rediff.com analyses Australia's showing in the tournament so far.
'For me, it looks like the four teams that will go into the semi-finals are Australia, New Zealand, Sri Lanka and South Africa,' Bevan said in an exclusive chat with Special Correspondent Harish Kotian.
Click on the audio player below to hear Michael Bevan