'Paid selectors a good move' April 8, 2007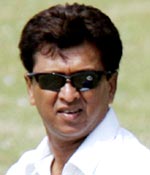 The Board of Control for Cricket in India on Saturday announced that Rahul Dravid will remain captain for the team's next three tours.
"The working committee has directed the selection committee to send a young team to Bangladesh under an experienced captain. The selection committee after discussions has appointed Rahul Dravid as captain," BCCI treasurer N Srinivasan said in Mumbai.
Dravid, who faced a lot of criticism following India's first-round exit from the World Cup, will lead the side for next month's tour of Bangladesh as well as trips to Ireland and England later in the year.
Former India captain Ravi Shastri was confirmed manager for the Bangladesh tour. It was further decided that Venkatesh Prasad will be the bowling coach and Robin Singh the fielding coach on the tour.
There were also a few other changes suggested by the Board, like scrapping the present zonal representation in the national selection committee and having paid selectors.
Former wicketkeeper and chief selector Kiran More, in an exclusive chat with Special Correspondent Harish Kotian, discusses the changes.
'Scrapping zonal representatives in the selection committee will benefit everyone, including the selectors, because they will have more say now and there will be less pressure from their respective zones,' says More.
Click on the audio player below to hear Kiran More