'Where is the performance?' April 4, 2007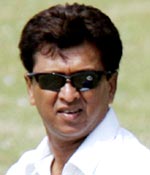 Indian cricket is in crisis. First, the humiliating exit from the World Cup; then, after the team returned to India, not only did the blame-game start, but it also poured out into the open.
Coach Greg Chappell has reportedly criticised the attitude of senior players in the team, including Sourav Ganguly, Sachin Tendulkar, Virender Sehwag and Harbhajan Singh. The players in turn believe that it is the Australian who is responsible for creating a sense of insecurity within the team by his preference for youngsters.
There are also reports that the group of seniors is rallying together against Chappell and Rahul Dravid and want Tendulkar to take up their case with Board of Control for Cricket in India president Sharad Pawar.
The BCCI working committee meeting in Mumbai on April 7 will decide the fate of both Chappell and Dravid. While it is largely believed that Chappell will not be retained as coach, Dravid could get another chance to continue at the helm.
Former wicketkeeper and chief selector Kiran More, in an exclusive chat with Special Correspondent Harish Kotian, discusses the issue.
'If you are losing to Bangladesh then I think the question mark comes regarding the performance,' says More.
Click on the audio player below to hear Kiran More