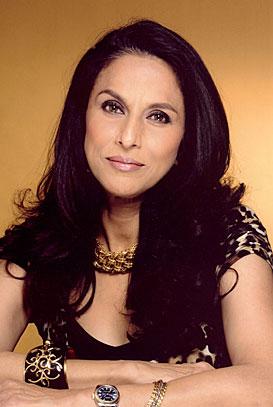 'Mere paas maa hai. I have India. I feel blessed.'
Incredible, unstoppable India

Her latest book, says novelist Shobhaa De, is a story about India. A place that is impossible and demanding. Exasperating and annoying. But equally enchanting and alluring, captivating and quixotic. 'My India. It is a very personal story. I am exactly as old as India'.

In Superstar India, De feels her own life is intertwined with that of India's. She says she has kept faith in India and her faith has paid off. But keeping faith was not that tough because De says India is easy to love.
---
Features
• 'India's time has come!'



• 'We need to count our blessings'


• Big B unveils Shobhaa De's Superstar India
• We adjust and Ganga flows on
• Win Rs 50,000 on the Shobhaa De contest!

Shobhaa De's Superstar India will be launched across India at several cities:
Mumbai: April 29
New Delhi May 3
Bangalore: May 7. Book signing at Landmark, The Forum, 21 Hosur Road, Koramangala, Bangalore, phone: (080) 2206--7777 on May 8
Chennai: May 9
Hyderabad: May 12
Kolkata: May 15
Pune: May 17
Lucknow: May 23
Chandigarh: May 26

---