Email |
Discuss | Get latest news on your desktop



Will Pakistan's break-up bode well for India?

February 19, 2009

Tristan James Mabry, a professor in the government department at Georgetown University in Washington, DC, believes that Pakistan is a failed State.

Although it has a per capita GDP similar to India, he points out that it scores low on political rights, ranks fifth in the world for group grievances, scores low on the State's legitimacy to represent the people, and has the army as a State within a State ("If the army is the State, the Inter Services Intelligence is its cabinet"), and is among the countries with the most factionalised elites at the highest levels of government.

Speaking to Rediff India Abroad's P Rajendran, Mabry, a former reporter for The Wall Street Journal and a producer for CNN, argued that ethnic differences are more likely to result in conflict than economic divisions, and that India remains undivided because it gave some authority to ethnic and linguistic groups, among other things by drawing state boundaries around them.

Given that Pakistan has not been able to address the needs of the various groups within it, he believes it would be better off as three of four stable countries than one unstable one.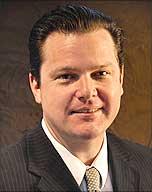 How is it that you see Pakistan as a failed State?
For a State to be successful, you would assume, as a necessary condition, that it is legitimate. And for a State to be legitimate, it has got to follow the principle of popular sovereignty. It is pretty hard to find a country that says it doesn't represent the will of the people.
The central problem for Pakistan is that there's a great disagreement among the people about what Pakistan should look like. In the same way, there was a time. at least in the US when we looked at Iraq, where we would think, 'How do I make a better country for the Iraqis?'
It took a few years but, eventually, people figured out that there wasn't anything called an Iraqi. There was a Sunni Arab, a Shia Arab, and a Kurd, and they all have very different ideas about what the country should look like.
In Pakistan, the complexities of the internal ethnic divisions are difficult for policy-makers to appreciate. My experience, certainly interviewing Sindhi separatists, was that the sentiment for their own country is very deep, very sincere, and not likely to disappear anytime soon.
Image: Pakistani soldiers guard a street in the Swat valley. Photograph: Abdul Rehman/Reuters. Right: Tristan James Mabry.
Also see: The Pakistan State fails, jihadis prevail