Email |
Discuss | Get latest news on your desktop



'Cutting aid will curtail Pakistan army's independence'

February 3, 2009
United States Assistant Secretary of State Richard Boucher, a long-time career diplomat, who now has become US President Barack Obama's point man for South Asia and is likely to remain so for at least a few more months, has acknowledged that the bottom line insofar as the composite dialogue between India and Pakistan being resurrected, depends on the trust deficit between both countries in the aftermath of the horrific Mumbai terror attacks being significantly bridged.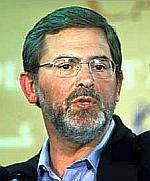 In an exclusive interview with rediff.com's Aziz Haniffa in Washington, DC, Boucher said, "Frankly, if you look at the situation right now, the best way to ease tensions (between New Delhi and Islamabad) is to deal with the Mumbai and the terrorism problem."
But he refused to subscribe to New Delhi's contention and that of many analysts and critics that Pakistan was stalling and had not really come down hard on terrorist groups, particularly the Lashkar-e-Tayiba -- widely believed to be responsible for the Mumbai terror attacks.
The senior US official did not believe that security assistance to Pakistan had to be conditioned to the extent that it would have strings attached, which would curtail the independence of the army -- widely believed to call the shots in Pakistan. Thus, Boucher argued, "You have to be careful not to cut off your nose to spite your face."
Image: Smoke billows from the iconic Taj Mahal Hotel during the Mumbai terror attack. Photograph: Arun Patil.
Also see: 'A sovereign nation has every right to safeguard itself'