Email |
Discuss | Get latest news on your desktop



'No party wants to displease the Hindus'

February 2, 2009


Archbishop Raphael Cheenath, head of the Catholic Church in Orissa, has predicted that Christians who fled Kandhamal -- following the violence perpetrated against them by Hindutva forces last year -- are unlikely to return to their homes. Christians in Orissa, the archbishop felt, do not trust Chief Minister Naveen Patnaik's assurances of protection and security.

In an interview with rediff.com's Aziz Haniffa, Archbishop Cheenath declared that Christians and other minorities in India would continue to be persecuted and subjected to violence by Hindutva forces because political expediency would preclude both the Orissa and central government from coming down hard on these forces, for fear of antagonising the majority Hindu population.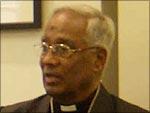 He acknowledged that the situation in Orissa is not 'explosive' anymore, but "one of the reasons for this is because there are not too many things to be destroyed. They have destroyed everything of Christians in that district."
Although the situation is no more explosive, Archbishop Cheenath said, "The situation is very tense. The people who left Kandhamal district and those who left Orissa itself are not prepared to come back."
Image: A portrait of Jesus Christ hangs on the wall, after a mob attacked a Christian tribal's home at Barakhama village in Orissa. Photograph: Parth Sanyal/Reuters. Right, above: Archbishop Raphael Cheenath.
Also see: Normalcy returns in Orissa, but scars remain