A Ganesh Nadar in Kohana, Maharashtra | September 30, 2008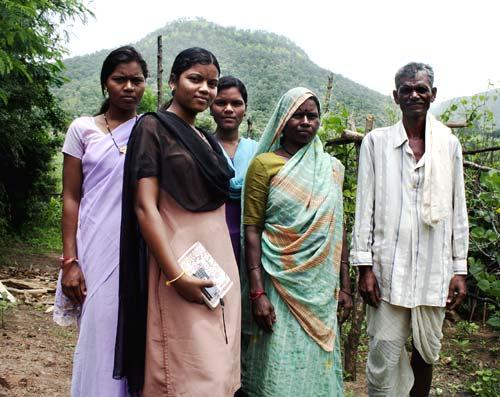 Kohana village is in the Chikaldhara taluka of Maharashtra's Amravati district. This is where Rajaram Mangu Mawaskar lives. He belongs to the Korku tribe that inhabit this mountainous area which has an enviable natural beauty.
Its high mountains, deep valleys, spouting waterfalls and numerous rivers just seem to be out of a perfect painting. In the monsoon, the greenery is all abounding. Monkeys swing on branches, peacocks scurry across the road and squirrels dart up tress -- and this is by no means any exaggeration.
But Rajaram's own life is replete with hardship. In fact, most of his tribe struggle to make ends meet and live their life in poverty.
The Korku tribals arrived here 150 years ago. They were brought by the British to plant trees and originally belong to Madhya Pradesh where over 600,000 Korkus still live. Maharashtra has 200,000 Korkus in the Melghat area, a region that was claimed by the state on the grounds that it had no forest area.
A tribe of farmers, Korkus depend on the monsoon as this area does not have any water storage facility or irrigation scheme. As the tract is hilly they practice step farming, done in the most rudimentary manner. They have no tractors, since they are too poor to buy them and use oxen to plough their fields.
Rajaram grows jowar, tomatoes, chilly and toor dal. He, however, sells only the chilly. The rest he keeps as supplies for his own family. But if the monsoons fail, they are near starvation.
All his family members work on the field because they can't afford outside labour. Though he doesn't make much money, Rajaram is a man of few needs. His wife spends Rs 100 to 150 per week.
He studied up to class IV in his village school. After that he did not have the money or the desire to go to the nearest town to study in a middle or high school. Thankfully, things have improved for his kids as there are nearly 300 primary schools in the Melghat area. The government made provisions to impart primary education in the Korku language since 1985, which has gone a long way in ensuring that the children get an education.
Previously in the series: 'What will a poor man do with a nuclear bomb?'
Now there are more middle and high schools too. There are also a few colleges in the area and very few graduates. More than 100 girls are qualified nurses.
Rajaram sent all his five children to school. The elder son is in the first year of graduation and Rajaram somehow manages to pay the fees from his frugal means.
His savings are three grams of gold. Since according to the Korku custom, the groom has to give some gold to the bride's family at the time of wedding, his son-in-law gave him five grams of gold. "I did not take any money for my daughter. Instead I told them to spend the money for the marriage. They looked after their guests and I looked after mine," says Rajaram who spent Rs 12,000 for the wedding.
His second daughter Sharadha has completed class XII and is working for a local NGO Khoj. Her salary is Rs 1,500 a month and she carries a mobile phone. "I pay the mobile bill myself," she says with pride.
She says her brother too will do social work after doing a masters in social sciences. Rajaram wants his daughters to get married and hopes his son will get a good job and will not have to rely on farming to survive.
The series: How India Lives
"We had a lot of land but I have many brothers. We had to split it and thus our land holding is now small. Also a dam came up in this area. I had to give them one-and-a-half acres for which they paid me Rs 8,000 rupees per acre. That was in 1994. Now I have two acres of land," says Rajaram.
He has no idea of any special schemes that the government has for tribals. He doesn't know what reservation means. He is sending his son to college in the hope that he will get a good job, while his daughter is determined to go to college though she had to take a break after junior college to support herself and her family.
"I will come to Mumbai and study. I have been there twice for a holiday. I stayed with girls who were with me in junior college. They are now in college there," she says and wants to know how she can secure admission in a Mumbai college.
Rajaram doesn't have big dreams and says he will continue to till his land. His daughters will get married and leave. Maybe his son will finish college and get a job. But Rajaram who was born in Melghat which literally means where the mountains meet, knows nothing beyond those mountains. He says he will till the land with his last breath as his ancestors did before him.
Image: Rajaram Mangu Mawaskar with his wife and three daughters
Photograph: Uttam Ghosh
Earlier in the series: This is how the other half lives 'I am Sikkimese but my desh is India' Oh god, hear their prayer 'India has great opportunities, you just have to take your chances' The auto driver whose kids want a life abroad Diary of a successful Indian The people's doctor For the love of Billo Why K R Babu is happy with inflation No electricity, phone or TV and lions as neighbours
The exorcism of Nandai