Archana Masih in Jodhpur | September 5, 2008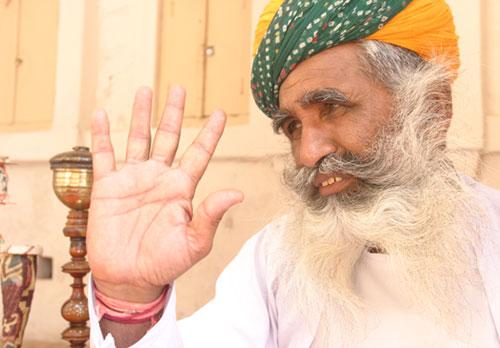 In the courtyard where the kings of Marwar have been anointed for generations sits Padam Singh -- straightening his crisp white kurta and priming his well groomed moustache each time a visitor steps into the pristine courtyard.
For the last 15 years, the 58-year-old sentinel has come to his post at the Mehrangarh fort in Jodhpur. Reliving history, quite literally, as he lives and works inside the precincts of the majestic fort, which was built in 1459.
Long after the kings of Marwar left this fort and moved to the neighbouring Umaid Bhawan palace, the fort has been home to around 150 to 200 people like Padam Singh who work at the fort, an icon for Jodhpur, and its foremost tourist attraction.
"I am employed by the Maharaja and my job is to give people a sense of what fort life was during that time," he says, sitting with a hookah without any opium. For those who stop by, intrigued by his stately moustache and costume, Padam Singh displays how the hookah was used during those times. Just like it has no opium, his hookah does not puff out any smoke; it is an empty contraption to show tourists what it looked like in those times.
At times, he chats with tourists who have more questions about his moustache and beard than anything else. "My moustache is quite famous, you see, it has even been featured in advertisements," he chuckles.
He calls it his "shauk (passion)" and grooms it with coconut oil every morning for 20 minutes. "Once this is done, I am ready for my work. It is a very important part of my job."
Proud to be employed by Maharaja Gaj Singh, the current titular ruler of Jodhpur whose family has ruled the region since the 15th century, Padam Singh belongs to an old world ethos and considers himself the maharaja's subject.
"Respect for the royal family is ingrained in me and among many of us. I consider him my raja. For me he is more like the sarkar (government) than the one that governs us from Delhi."
Padam Singh has a mouthful for the central government for focussing so much on the nuclear deal at the expense of problems like rising prices.
"What will a bomb do? What will a poor man like me do with a nuclear bomb?" he asks angrily. "I am paying Rs 60 for a kilo of daal. Will the nuclear bomb help me get it for a cheaper price?"
Previously in the series: This is how the other half lives
With a salary of Rs 5,000 a month, he has been able to put his 21-year-old son Mahendra through a chartered accountant's course and says with great pride that he will do better than him.
Till that happens, Padam Singh continues with the routine of his life -- waking up every morning at 4.30 am, praying to Lord Ram, feeding the pigeons, eating two meals a day and setting out for his spot in the fort.
"I love this fort and my work. The raja also knows that I work here and when he comes here, he always talks to us with respect. He refers to us as 'aap' never as 'tum' and that in itself shows the fine qualities that define him."
In 2005, when Maharaja Gaj Singh's only son Shivraj Singh suffered a serious head injury in a polo accident and slipped into a coma, Padam Singh walked barefoot to the Chamunda Devi temple asking for the young prince's recovery.
"The king's grief is our grief. Thankfully our prayers were heard and the Yuvraj is recovering. He has started walking a little. I am looking forward to the day he gets well completely and comes here."
As he showcases a bygone era of kings and palaces, Padam Singh is a keeper of a period lost to history, long after India abolished royal privilege. Taking visitors every day on an interesting and charming journey through a fort that has become his life.
Photograph: Rajesh Karkera
Earlier in the series: 'I am Sikkimese but my desh is India' Oh god, hear their prayer 'India has great opportunities, you just have to take your chances' The auto driver whose kids want a life abroad Diary of a successful Indian The people's doctor For the love of Billo Why K R Babu is happy with inflation No electricity, phone or TV and lions as neighbours
The exorcism of Nandai