Archana Masih in Shimla | May 30, 2008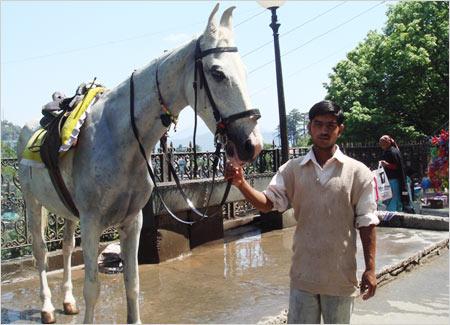 The Ridge which is Shimla's main meeting point reminds you of hill stations from the Hindi films of the 1970s. Honeymooning couples get photographed in traditional Himachali costumes, families take their evening stroll, retired men chat under a rare Chinar tree in the municipal garden; the charming colonial building, which is the state library and the old church from the 1880s which towers over the Mall.
Trendy teenagers, some in rather risque T-shirts, saunter up and down while children take rides in hired prams festooned with toys because vehicles are not allowed on the Mall.
Amidst these everyday scenes, Sonu Kumar and Billo come to the Ridge every morning. Before they begin work, Sonu bathes Billo and then waits for tourists looking for horseback rides.
For the past two years, Billo has been trotting up and down the 150 metre track permitted by the local administration for horse rides. "For 25 years my father worked here on the Ridge and then handed over Billo's reins to me," says 20-year-old Sonu who opted out of school after class VIII.
"I would have liked to work as an office boy, but maybe being a ghodawallah was what was destined for me," he says as he gives Billo a scrub.
Next in the series: The people's doctor
With each ride Sonu makes Rs 30. In the good tourist months of May, June and July, Sonu and his other comrades earn around Rs 800 to Rs 900 per day; in less touristy times, their daily income dwindles down to Rs 200 to Rs 250. "We bought Billo for Rs 90,000 and now find it hard to look after her. Feeding her is our biggest expense."
Sonu says he has never paid as much for Billo's fodder as he does now. Chana (gram) which cost Rs 12 to Rs 14 a kilo now costs him about Rs 25. "I spend Rs 250 each on chana and Rs 250 on bundles of grass each day."
At the end of the day, he leaves Billo at the stable below the Ridge and goes to the one room accommodation that he shares with his father. The rest of his family lives in a neighbouring village.
It is summer and the markets of Shimla sell cherries and strawberries, but Sonu says it is wheat and vegetables that are of relevance to him. The prices are too high for him to get by, especially during the lean days at work on the Ridge.
"I am more concerned about Billo's expense than mine. I can manage somehow, but she needs her basic food at least. How can I deprive her of that?"
It is early afternoon and Sonu hasn't had a single customer yet. "There are so many people who come here just to walk or sit around the Ridge. I try and talk to them into taking rides. Customers haggle and walk away if I don't reduce the price."
As wandering salesmen spread their wares at the local Church bazaar and walkers take rounds between Lala Lajpat Rai's statue and Mahatma Gandhi's statue on the Ridge, Sonu says he never thinks or hopes that he will do something else than this. "It is something that has been handed down to me and I will keep it with me as long as I can. I have to look after my family and, of course, Billo."
As long as he has Billo, Sonu Kumar knows she will help him get by.
Photograph: Archana Masih
Earlier in the series: Why K R Babu is happy with inflation
No electricity, phone or TV and lions as neighbours
The exorcism of Nandai