A Ganesh Nadar in Chennai | May 23, 2008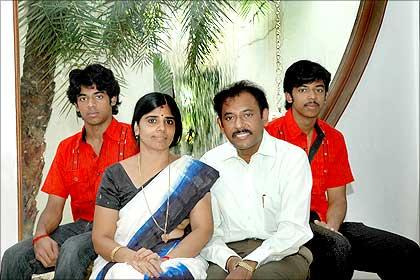 Two decades ago, I couldn't have imagined that an Indian rocket would launch ten satellites. Our lifestyles have changed -- there was a time when annual summer holidays meant taking train journeys to the family home in villages, and now Indians are touring the world -- and how!
As I notice the changes sweeping through my home state of Tamil Nadu, the change seems to be most visible in Chennai.
Once known for its conservative culture, where the lifestyle of the city had a profound Brahmanical influence, Chennai has seen a churn of its own. Though Bharat Natyam performances may still bring in big crowds, the new age professionals of today have brought about a modernisation of the city.
Along the way, it has lost some of its identifying symbols like the traditional thavani (half sari), which has been sacrificed for the salwar kurtas, skirts or jeans. Not that I have anything against these forms of clothing, but I feel a twinge about losing a part of our past that I identified with in my youth.
On my last trip to the city, I visited the home of a rich family in a prosperous suburb, and got a peek into the life of a resurgent, confident India. At the gate stood two security guards, who granted me entry only after I could convince them adequately. After speaking through the speakerphone at the entrance, I was allowed to go inside after the residents recognised my voice.
As I waited for the door to open, I walked past the driveway in which were parked a Mercedes Benz, Sonata and Innova cars.
First in the series: The exorcism of Nandai
K R Babu was born to rich parents, and is the youngest of four brothers and a sister. He joined his father's business after completing secondary school. The family had a manufacturing unit which made stainless steel vessels. Even in those days of a closed Indian economy, his father only used Japan steel.
Married with two college-going sons, Babu, 42, makes me sit in his living room which has glass walls. Behind the walls is a garden with a gurgling waterfall.
He tells me of his daily routine -- 7 hours in the office, an evening walk or a visit to the beach. Weekends include a visit to the amusement parks or a movie -- English or Tamil -- or a trip to their farm house at the edge of the city.
Twice a year, he takes his family for a holiday. "I spend 15 per cent of my earning on holidays. We have been on most of the continents. We take organised tours to different parts of the world except the USA, because we have a couple of nephews who take us around in America," he says.
After working for a few years in his father's manufacturing plant, Babu moved to the marketing wing where he learnt to maintain an all India network. This stood him in good stead when he branched out from the family. He now imports finger print locks and water purifiers and distributes them around the country.
I asked him if inflation had affected his business at all. He said he was very happy -- inflation had driven up the price of his real estate. "I save 50 per cent of my earnings and invest all my savings in real estate."
Babu built a seven storeyed building in Chennai in a record six months. Encouraged by his feat, he posted an advertisement in the newspapers that he could build people's homes in four months. When no one took up the offer -- because people who usually have to wait for three years with other builders thought it was a scam -- Babu gave up the idea.
His elder son is studying computer science and says he wants a good job after graduation, while the younger boy wants to do an MBA and join the family business. The boys tell me they don't get a fixed allowance. "Dad gives us what we want and we both have credit cards," says the elder son.
Second in the series: No electricity, phone or TV and lions as neighbours
Babu's wife, like all doting mothers, says bringing up two sons has been her joy and happiness. She keeps a strict check on the family diet, ensuring that only healthy, low calorie food is served at home.
"I do not keep chips, sweets, colas in the house. If they want a cold drink, then it's Diet Pepsi. I have to take all these precautions because my husband is diabetic and I don't want my children to get it too," she says.
Their home also has a well equipped gym which the family uses regularly.
As he talks about his experiences with different cultures, Babu says: "Family affection and bonding is much stronger in India. Abroad even if they serve each other food they take it as a huge favour. Here it is normal for the host to serve you food. There they make it out to be a big obligation. Even the wife serving her husband food is looked upon as a rare feat, here we take it for granted."
Wistful about the changing times in India, he is disappointed with the way Indian family affection is being lost in the hustle and bustle of city life. "Villagers are more attached to a larger joint family, which is lost on city people."
Next in the series: For the love of Billo
My old fashioned heart which still remains loyal to old Madras could not agree more.
Photograph: Sreeram Selvaraj