Prasanna D Zore in Gangapur, Karnataka | May 12, 2008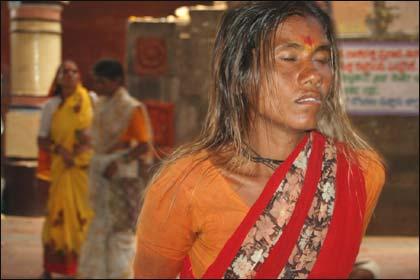 Nandai goes into a trance as soon as the sound of the nagada (drum) beats reverberate inside the temple precincts. She thinks she is possessed by an evil force which will be exorcised at the Dutta Maharaj -- an embodiment of Brahma, Vishnu and Mahesh -- temple in Gangapur, a sleepy pilgrimage centre in Karnataka.
Inside the temple swarm several score devotees -- most of them belong to the lowest economic strata -- waiting anxiously for a darshan of the Lord and for the drumbeats to begin so that they can watch a spectacle of which Nandai is a part.
A number of priests mill around, interacting with some well-to-do devotees, helping them prepare for a grand abhishek (a ritual to appease the gods by pouring milk and honey on the idol) -- the real purpose for which these devotees have come to a place where the average daily temperature records upwards of 40 degrees Centigrade in April and May.
A few stray dogs look at devotees expectedly and they are not let down either. As soon as the abhishekconcludes the dogs are fed.
For the last couple of centuries people who are 'possessed by evil' visit this temple every day and rid themselves of the 'evil' inside them.
Nandai, 50, a mother to four daughters and one son, is one such possessed soul.
It is a bizarre spectacle but go into the innards of India and you will find people who believe or are made to believe that they are so possessed. Where the damned flock to all sorts of godmen and priests seeking redemption. We dismiss it as another horror of superstition and look the other way but these things still exist in the thriving, booming India of today.
Nandai's story is one such. For the last five years she has lived a migrant's life. Away from her home in Solapur, Maharashtra -- the current Lok Sabha constituency of Union Power Minister Sushil Kumar Shinde -- she spends most of her time in the dusty, searing vastness of Gangapur, some 105 km south of Solapur, seeking deliverance from the Lord.
When she returns to Solapur -- which is rare now -- Nandai begs, collects garbage to feed her family. She, her children and husband live in an illegal tin shanty that does not enclose an area of 80 sq ft.
In 2003 she says she discovered that she had been possessed by some 'evil force.' She thinks her neighbours were responsible for this as "they used black magic" to take revenge on her. Revenge for what? She doesn't have an answer.
"The karni (local term for black magic) is very intense and hence it's taking so long for me to get rid of it," Nandai says, while removing a thorn lodged in her seven-year-old daughter Yamai's foot with a safety pin. She adds she is at peace with herself and Yamai in Gangapur. But when she's home she fights with her children, abuses her husband, hits him almost every day; proof, she says, that she's possessed.
Nandai spends most of her time in Gangapur away from her family, trying to exorcise the evil within. She brought Yamai to Gangapur after her last visit home some two months ago.
"I am responsible for my family's plight," she says and that's the reason she keeps away from home so that the rest of them can live in peace.
Back home her eldest daughter, 16, helps her father in the household chores. Obviously educating her is not a priority, adds Nandai. Only her 15-year-old son goes to school.
Nandai's elder brother -- who is financially better placed than her -- provides for his nephew's lodging and boarding. Nandai is not aware of where her son studies. She believes that the evil within has sapped her mental faculties.
When I ask her age, Nandai looks at her companion Sindhubai, who says she is 50. She doesn't know her country's name either. "Bharat, Hindustan, India?" I prod. Both Nandai and Sindhubai stare at me blankly as if they have never ever heard these words.
Her two youngest daughters, aged 3 and 5, study in a local Balwadi (playschool). Her husband is on the rolls of the Solapur Municipal Council as a temporary worker. He gets work 10 days a month; the rest are spent doing odd jobs in the area.
Her husband barely earns Rs 450 a month and that's one reason why Yamai is accompanying her mother this time around. Finding food is quite easy in Gangapur. It is a tradition here that devotees -- the haves as well as the have nots -- beg for food and alms inside the temple just like Dutta Maharaj did in his time according to folklore. Mostly, the haves dole out the food and the have nots beg for it. A perfect spiritual symbiosis, it would seem.
"Yamai's health has improved a lot in the past two months," says Nandai. "We get to eat two meals a day unlike home where sometimes we sleep hungry."
Nandai, Sindhubai -- who also says she is possessed by evil -- eat at the temple and sleep along the confluence of the Bhima and Arja rivers. Ask Nandai about her children's future and she points towards the idol inside the temple's sanctum sanctorum, smiling serenely at the world.
Photograph: Prasanna D Zore
The Way We Live

Next in the series: No electricity, phone or TV and lions as neighbours