Archana Masih in Pune | June 24, 2008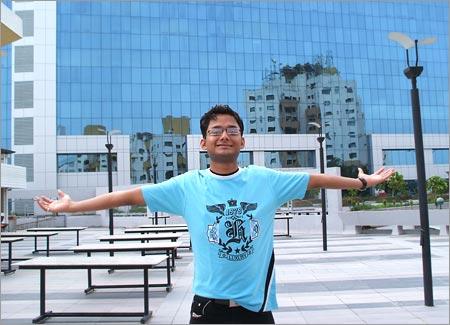 With no place to stay and just an office address, Makrand Maiende arrived at the Nizamuddin railway station in Delhi. He was 21. It was his first day at his first job in a city he was visiting for the first time.
The offer letter had been given to him at a job fair in Indore the week before. The job was for a call centre in Gurgaon. Rs 10,000 was the salary offered -- and since he hadn't got through the entrance exams to management colleges this seemed a good stop-gap work option.
Winter was on the retreat that March morning in 2006 as Makrand haggled with an autorickshaw outside the station, finally settling at Rs 40 for the ride. The Rs 2,000 his mother had given him was tucked safely inside his wallet. As the auto rattled on Delhi's roads, the commerce graduate thought of his home in Maharashtra's Chandrapur district. He was anxious about the day ahead, but thrilled at the thought that he had left home to make a life at 21, when his father did so at 27.
He reached the work place, kept his bags in the HR department and reported to his desk. By the time he finished it was 9 pm and Makrand walked out at the end of day one not knowing where he would sleep that night.
"I met a few boys who had also just joined and did not have a place to stay. Someone mentioned a Jain dharamshala and that's where I landed up. I stayed there for four days till I rented a room with four boys who also worked in a call centre," he recalls.
By the time he received his first salary, the Rs 2,000 his ma had given him had dwindled to Rs 600 and Makrand, the pampered one amongst his two siblings, was living off Parle G biscuits. "I got Rs 3,000 for the 17 days I had worked the first month and I bought myself a cellphone," he grins. After working for four months he quit and took up a job with a chartered accountant in Nagpur, earning Rs 200, Rs 300 in instalments off and on.
Next in the series: Oh god, hear their prayer
But the job wasn't much fun, he didn't have any friends, so he thought he'd join his elder brother in Pune and try for a seat in an MBA programme. But that was not to be, disgusted when nothing came through, he returned home.
"You wouldn't believe this, but till I finished BCom, I had not even heard what an MBA was. I was a student who couldn't care less -- guess what I scored in Class XII? 48 per cent! In my first BCom I got a back paper -- I still remember how I was jumping at the bus stop when I cleared that back paper. I went on to score 60 per cent in my second year and it was then I realised the importance of doing well in an exam."
Having grown up in a town called Cement Nagar because it housed an Associated Cement Company factory -- where his father has worked for 30 years -- Makrand was sent to a relative's home in Indore to train for his MBA entrance exam. His parents spent close to Rs 70,000 so that their son could apply to various MBA programmes. When he didn't get admission to a management college, he walked into the job fair that landed him that first job in the Gurgaon BPO.
Last year, he found himself another job as a call centre executive in Pune which fetches him Rs 11,000 per month. He is certain it is only a matter of time before he passes the MBA entrance exam this year. "That is my immediate goal," he says, "I am certain I will get through the Symbiosis test this time around."
The hard call centre night shifts and erratic work hours did not give him any time to prepare, but he says he did a good job in the written test and group discussion. "What's the point, tell me -- when I did coaching for a year I didn't get through, so what difference does it make? I just prepared alongside my work and took a week off before the exam this time."
Till the time he makes it, he will hold onto all the Speed Post receipts of every MBA entrance form that he has sent so far -- an archive of his days of struggle. This year he sent four applications. Sensible to understand that he needs to earn a living as he keeps trying to get into an MBA course, Makrand shares a room with his older brother and another friend. He pays the rent for his brother as well which costs him Rs 5,000; another Rs 3,000 he pays for meals.
"I now have a work experience of one-and-a-half-years and feel I have established myself well without doing any sycophancy," he says, but seems unnerved about the impression many people have about call centre employees.
"They say we drink, smoke, throw attitude and have girlfriends/boyfriends -- which is not all true. Don't other young professionals do that too? They don't see the hard work we put in. I have become independent, learnt to speak well. Today I can speak to anyone, anywhere in the world -- with ease and confidence. Where else could I have got a better preparation for a MBA group discussion than here?"
After his next appraisal, he hopes to get Rs 15,000 which he says is good enough for him. The secondhand motorcycle that he bought is not used much since he travels to work in a vehicle provided by the company and commutes within Pune city by bus. "I am not able to save much but when I went home last time I took shoes for my parents," he laughs, "I think only people who stay away from home know the true value of home."
His shift begins late afternoon and by the time he returns home it is midnight. The BPO business is growing at 39 per cent year or year, but trouble is brewing. Industry sources say the graveyard shifts take a toll on the employees, there is not much stability because many processes are on a contractual basis, moreover young people are known to quit BPO jobs very quickly. "As soon as China and Brazil gain strength in the BPO business and the rupee becomes stronger, our call centres will weaken," feels one former BPO executive.
But these concerns don't trouble the happy-go-lucky Makrand. "Life is what it is, what will happen, will happen," he says. As of now, he is secure in the belief that he will make the MBA programme this year. "I will call and let you know what the result is," he grins, "If I don't make it, I'll try, try again."
As he chomps into a gobi paratha, the 23-year-old talks about a dream he has had since the second year of BCom, when he first read about FICCI -- the Federation of Indian Chambers of Commerce and Industry. "I want to head it one day. But you know what my ultimate dream is? To be a CEO of a company by the time I am 30."
"India has great opportunities, you just have to take your chances," says Makrand, who has never flown in an airplane, but is waiting for that ultimate flight to success.
Photograph: Archana Masih
Earlier in the series: Diary of a successful Indian The people's doctor For the love of Billo Why K R Babu is happy with inflation No electricity, phone or TV and lions as neighbours
The exorcism of Nandai