A Ganesh Nadar in Kolhapur | June 19, 2008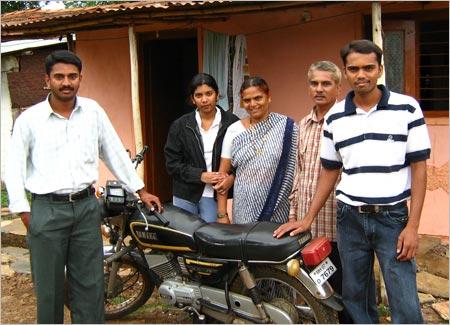 Robert Bapusahid Misal wakes up at the crack of dawn and does what he has been doing for most part of his life -- sweeping the cowshed behind his home and carrying the dung to the pit nearby. Every few months, he sells this to farmers who use it to fertilise their fields.
Before the rest of his family gets up, the 49-year-old has already finished feeding the goats and buffaloes. He then fetches the eggs out of the hen-pen and brings them to the kitchen table for breakfast.
Robert Misal is an auto rickshaw driver in Kolhapur, Maharashtra. Apart from the auto he owns 10 goats, four buffaloes, seven hens and a cat.
Every morning, his wife Shobha milks the buffaloes while Robert goes into the village to deliver it to customers before setting out for work as an auto driver. His animals have provided the family some additional income for several years.
Robert dropped out of school before finishing Class X but sent his three children to the local Marathi medium school. He wanted them to do better than him -- today his older boy Timothy is an air conditioner mechanic with aspirations of going abroad after marrying his fiance who is a nurse.
"I am going to get married in October to Praneeta, she is a qualified nurse and will easily get a good job there. AC mechanics are also in demand everywhere. I have relatives in many countries and they will help me get there," says Timothy, who trained at the ITI and has been a mechanic for six years.
Sunny, the younger son has been working for a stockbroker for the past seven months, and proudly informs us that the company's daily turnover is Rs 1 crore, 40 lakhs. "I see my future in the stock market. I haven't decided if I will continue here or move to Mumbai," he says.
Next in the series: 'India has great opportunities, you just have to take your chances'
Robert doesn't make much sense of the stock market neither does he keep track of the finances in his home. His wife sees to all this. In all these years, all he has for savings is one Life Insurance Corporation policy for which he pays Rs 610 every three months -- and a family home with a bathroom outside.
In his quest to give his children a better future, Robert sent his youngest child Preethi to study nursing in a different town where she stays in a hostel.
"I chose nursing because I like people in general. I also want to go abroad because in nursing there are many avenues. There is a global demand for good nurses," says Preethi who is working on improving her English skills.
"My nursing classes are in English. I will learn it well in three years, moreover, I have to work for two years in the same hospital. My English skills will definitely improve."
In her spare time she rarely sees movies, neither does she read. But says she did not waste any time during her summer break and enrolled herself in a computer class.
Once she has made some money, Preethi wants to go for an arranged marriage. "I do not have anything against love marriages but we must follow our tradition," she says.
Robert and his wife, also a school dropout, are happy with what their children have achieved and how life has turned out for them. It is a life built on hard work which still takes a lot out of the couple.
"Inspite of rising prices, I still manage to save Rs 500 to Rs 1,000 every month," says Shobha proudly.
Like millions of Indian housewives, Shobha has put her entrepreneurial skills towards supplementing the family income. A very good maker of spices, she supplies spice powder to relatives abroad.
Every year she makes 600 kilograms of spices. The price is fixed by grateful relatives who would not get the taste of home otherwise. So Shobha's masalas travel far and wide to Australia, New Zealand, the UK and the US.
The Misals have never had any hired help. The couple have looked after the animals and their home on their own, as hard as it has been for them, never asking the children to chip in. "My wife milks the buffaloes, does the cooking and cleaning and I do the rest," says Robert.
They have never been inside a movie theatre in 22 years. Holidays have been to relatives in Mumbai, Pune, Sangli and Belgaum but never beyond. While they are content that their masalas have made it to foreign shores, their children dream of life in foreign countries.
An auto driver he may be, but Robert Misal is happy to have been able to give his kids the chance to dream big -- and that is his real success.
Photograph: A Ganesh Nadar
Earlier in the series: The people's doctor For the love of Billo Why K R Babu is happy with inflation No electricity, phone or TV and lions as neighbours
The exorcism of Nandai