Vicky Nanjappa in Haveri, Karnataka | July 2, 2008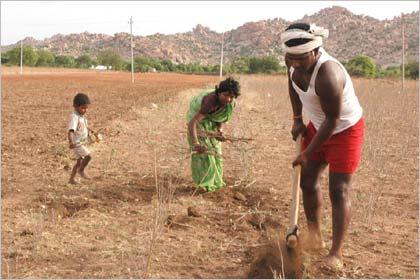 You think India is on the march -- that lifestyles have changed dramatically, and the standard of living has improved tremendously. Well if you thought this is how the real India lives, then read on.
In a small village near Haveri in northern Karnataka, Kattigere Thimappa and his wife toil day after day on a small patch of land so that they can make two meals a day. The meal is ragi roti with onions -- they eat this every day.
Haveri is 375 kilometres from the IT capital, Bangalore, and the lives here are in stark contrast.
Kattigere is 27, he has two acres of land and a family of four to support. The land is of little consolation as the monsoon has played havoc with his hopes. With no water source anywhere close to the field, he is entirely dependent on the mercy of the rain gods. The last two years have been a disaster -- the previous years the rains had failed and this year, excess rainfall destroyed the cotton crop.
Dejected that he could not depend on his land, he started working as a coolie at the local bus stand. Somakka, his wife, went to work at a construction site and with them went their two children.
"Manjunath is four-years-old and goes with his father, while I take Anita, the two-year-old along. There is nobody to take care of them," she says.
Next in the series: 'I am Sikkimese, but my desh is India'
Together they earn around Rs 75 a day if they get work and spend all the money on food and some other basic necessities.
"The last time I bought a sari for my wife was a year back. I cannot afford to buy it for another year I think," says Kattigere, "The crops have failed due to heavy rains and the grant promised by the government has not come as yet."
Every morning, the couple set out for work by 7 and return by 6 pm. After that, till darkness falls they work in their field along with the children. Although there is not much work in the field at the moment, they ensure it is kept clean because neglecting it will worsen it.
With an annual income of Rs 8,000, this family has no special days -- time is spent toiling just to be able to subsist.
They hope for a better life, but find their hopes dry as their land. They dream of watching television which they say they have never done so far, and they want to send their children to school.
"We want them to be able to study and are hoping that out condition improves next year so that we can send Manjunath to school," says Somakka.
The last time they had a good meal was around five months ago when Somakka's employer, a construction worker gave her some extra money when work was completed on the building. "It sure was a joyous occasion at our house," she says.
The couple knows no other life apart from their work. Their only pleasure is their children and whatever free time they get is spent playing with them. "I really hope we can give them both a better life. It is not about hard work, it's that our destiny depends on the rain gods. If the rains are good, we are good or else we have to settle for the worst," says Kattigere.
In their misery they never forget one thing -- to pray to god for a good monsoon. They say that is the only hope for a better life.
Vicky Nanjappa responds to those who want to help Kattigere Thimappa:
When Mr Thimappa was informed that Rediff.com readers wanted to help him, he said he was very touched by their thoughtfulness. He, however, declined to accept any monetary help because he said the government was going to give a grant for cotton farmers, which was his legal right and could not be denied to him.
He did ask for one thing, though -- he asked well wishers to pray to the rain gods for a good monsoon.
Photograph: Jagadish K
Earlier in the series: The auto driver whose kids want a life abroad Diary of a successful Indian The people's doctor For the love of Billo Why K R Babu is happy with inflation No electricity, phone or TV and lions as neighbours
The exorcism of Nandai