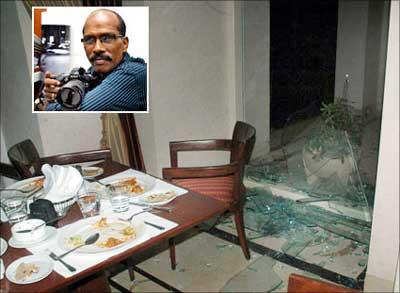 'The mental trauma of the attacks was enormous'
The doctors have told Inspector Deepak Dole of the Colaba police station in south Mumbai to avoid sunlight and dust for at least three months. The reason: Large swathes of his skin, burnt by the fire started by terrorists in the Taj Mahal Palace hotel, are peeling off.
'Pakistan is the centre of world terrorism'
Salman Rushdie slammed Islamabad for its 'cynical denial' that the terrorists involved in the Mumbai attacks were not its nationals.
He put duty before safety
Gutsy Indian Express photographer Vasant Prabhu risked his life to take images during the early siege at the Taj.
How Lashkar's terrorists are tech savvy
A dedicated technology laboratory at the Lashkar headquarters in Muzaffarabad, PoK, trains terrorists how to use tech and assemble bombs on the fly.
'Have summary trials for foreign terrorists'
'When foreigners enter our country and create havoc it is a war-like situation and hence such persons should be tried differently compared to other criminals.'
Terror's youngest victim
The heart-rending story of four-month-old Sheetal Yadav.
'Talk of war, surgical strikes is ill-advised'
'The priority at the moment should be to strengthen our internal security arrangements and improve coordination among the intelligence agencies, state governments and military authorities,' says Naresh Chandra, India's former ambassador to Washington.
ISI not involved in Mumbai terror attacks, says US security expert
'This is something the ISI would have wanted to prevent. There was no direct ISI involvement whatsoever,' claims American national security expert Harlan Ullman, who has close links with the Pakistani government and military.
'There was a lot of screaming and shouting'
Eyewitnesses recall the encounter which captured the terrorist.
Tackle terrorism or else, US Congressman warns Pak
If Pakistan continues to dilly-dally in bringing the perpetrators to justice and closing down the terrorist camps that operate within its borders, influential US lawmaker Ed Royce says he will lead the fight in the United States Congress to cut the massive military and security assistance to Pakistan.
Our MPs blocked the NIA 8 months ago
'Under pressure from corporate houses, this government will certainly work faster, but Home Minister Chidambaram will have to ensure that intelligence gathering would form an integral part of the other inter-related operational and investigative functions of the agency.'
From the terrorist's bullets to the altar
'I did not want to go to the wedding without hair. I didn't want my wedding to be postponed.'
'The international community won't help us'
'India should act harshly by discontinuing the peace process. The Lashkar-e-Tayiba could not have the kind of capacity to train commandos. The Pakistani establishment's help has to be there to prepare people for such attacks,' says former foreign secretary Kanwal Sibal.
In Delhi, tears for fallen heroes
Family members of policemen and soldiers, who died battling evil murderers in Mumbai, were honoured on Monday.
Attacks, 'blessing in disguise': Hinduja
The billionaire believes the 'whole world has awakened to this evil of terrorism' because of the Mumbai strikes.
'I didn't want to run away, so I fought back'
Harishchandra Shrivardhankar dared to fight back during Mumbai's night of terror, and survived to tell the tale.
India will have to fight in its own way
'India definitely does have options to respond effectively against the perpetrators of the Mumbai attacks. And no one is talking about war here,' says former national security adviser Brajesh Mishra.
Why Dhanji Karsan will never steer a boat again
Exclusive: Insights from a fisherman who spent two years in a Pakistani jail.
'The Mumbai attacks were directed at the US too'
'The fact that these guys had planned and executed the attacks before the Indian elections, the fact that the attackers were also looking for foreigners with American and British passports, the fact that they were attacking a Jewish establishment, and that the fact that they came from Pakistan... all these things are very important,' says New Age guru Deepak Chopra.
'Al Qaeda is a corporate entity'
'The terrorists were the labourers... A lot of money is needed for this. I don't think Lashkar has that money.' Former IPS officer Y P Singh speaks out!
'Despite attacks, Mumbai's image has not changed'
'Parents in the city don't worry about their young professional daughters coming home late at night in public transport. Having said that, there is no guarantee that this -- a better law-and-order situation in the city compared with other metros -- will protect you from a terror attack.'.
Image: The dinner that was disrupted. Inset: Vasant Prabhu.
Photograph: Kind Courtesy Indian Express