Home > News > Lakme India Fashion Week > First Look

India is shining for Kimono

Priya Ganapati in New Delhi | April 29, 2004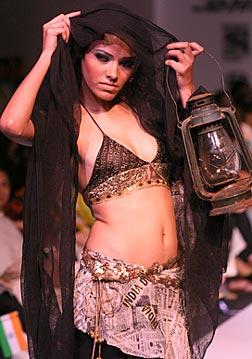 The country's designers have been rather impervious to the elections or political issues currently being debated.

However Kiran Uttam Ghosh, who retails under the label Kimono, decided to take a shot at creating a collection inspired by the India Shining theme this year.

Her collection tried to celebrate every element where India is shining -- cricket, information technology, Indian festivals and even the stock market success.

So models walked around with computer mouses strung around their neck, fake currency notes rolled into their hair, embroidered Nehru caps and colourful Bandhini ghagras reflecting the festive mood.

Kiran used fabrics like silk, cottons, georgettes, crochet and tulle to create an exciting collection that is inspired by the present.

She showcased skirts in Indian fabrics like Bandhini and tissue, asymmetric voluminous skirts with handkerchief hems, lehenga skirts, dhoti-inspired pyjamas, coat-kurtas and saris.

Embellishments included newspaper prints with headlines like 'India can do it' in black, white and ecru lace.

Ghosh also had a specially designed range of bags in unusual shapes and sizes in fabrics matching the ensembles.

Last word: A very wearable pret collection with an interesting theme.
Click on the images below for a bigger picture


Photograph: Jewella C Miranda
Editorial support: Imran Shaikh