Home > News > Vajpayee, 79 > Column


| | |
| --- | --- |
| | Article Tools |
| | |



'Atalji loves to laugh his heart out'

December 23, 2003



I do not remember when I met Atal Bihari Vajpayeeji for the first time. I do remember, however, that when I was in school I used to walk from Roop Nagar in north Delhi to the Ramlila Maidan whenever I came to know that Atalji is going to address a rally. That was the time he used to be leader of the erstwhile Jan Sangh. His speeches made us laugh and cry. His words kept resounding in my ears long after the rallies were over.

During the Emergency I along with my father Charti Lal Goel, a leader of the Jan Sangh, and Atalji were in prison. When I became president of the Delhi University Students' Union years later, I used to get cards printed and then go and tell Atalji "Cards print ho gaye hain, ab to aap ko aana hi padega [Now that the cards have been printed you will have to come]. I must admit he never disappointed me. I am indebted to Vajpayeeji because he has always showered his love and affection on me.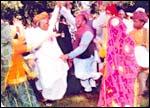 "Pandit Jawaharlal Nehru, who ruled India till May 1964, became India's prime minister because he had sacrificed a lot for the nation during the freedom struggle. Vajpayeeji for 50 years toured the length and breadth of the country to win the love and affection of the people. He is the tallest of all Indian politicians in the country today. There is no one who can match him in statesmanship.
"I have rarely seen him lose his cool. Once I asked him, aapko gussa nahin atta? He said he does get angry, but likes to channelise his anger through something constructive.
"He is a man with vision. While making his peace offer at a public rally in Kashmir in April this year, he said this was his last effort. His efforts seem to be paying off.
"He is one who can resolve the mandir issue [in Ayodhya] as well.
"When Musharraf was here to hold talks with Vajpayeeji on Kashmir in Agra and held a press conference, there was a furore. Everyone wanted Vajpayeeji to hold a press conference. But he did not do that. Now look where Vajpayeeji is and where Musharraf is.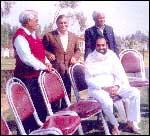 "India as a nation has become a world power under his able leadership. He has taken some bold stands, which at times were not liked by superpowers too.
"I recall when he and [Deputy Prime Minister L K] Advaniji walked alongside my mare at my wedding. Vajpayeeji may not be married himself, but he has seen many others get married. I cannot speak for others, but in my case I do remember he was around to attend my wedding.
"I adore him as a politician, prime minister, and elder statesman. He is a simple man. He looks what he is. He loves to laugh his heart out, but the position he holds prevents him from doing that now.
"I will never forget the day when Atalji took along with him Advaniji, Vijay Kumar Malhotra and the late Kanwar Lal Gupta to meet the President of India to register his protest against my expulsion from Delhi University. I had been punished for leading a students' movement. That day I realised how much Atalji loved me.
"When he took over as prime minister of India, his first public appearance was at my house where he along with all the members of his Cabinet were present.
"Very few people know that the poet Atal Bihari Vajpayee loves to listen to other poets as well. Once, when he did not get any other means of transport to go to the Red Fort for a mushaira, he hired a tonga to reach his destination. That is my leader Atal Bihari Vajpayee. He has sacrificed a lot. Always done something for the others. But never asked for anything in return.
Vijay Goel is Union minister of state for youth affairs and sports
(As told to Onkar Singh)


What do you think about the story?








Read what others have to say:





Number of User Comments: 17








Sub: He laughs to conceal his grief.

Beneath that laugh lies the "vishaad ki badli". That cloud of grief that could always be seen on his earnest face. He has to laugh ...


Posted by chanakya









Sub: Maybe its time to mourn for Dubey, and India.

Laugh by all means, but spare a thought for Satyendra Dubey who died due to the apathy of the powers-to-be. At 79 surely it is ...


Posted by kunal savarkar









Sub: Renowned leader that world has ever seen.

Vajpayeeji, he is an extraordinary person that anyone doesn't have. Let him grow at to his heights and stay as healthy, which will inturn give ...


Posted by Raveen Ayathan









Sub: PM who build the Highway to prosperity-

Mr Atal Bihari Vajpayeeji may go down in history as the PM who made the greatest contribution for prosperity in Independent India. His dream of ...


Posted by Sunny Chakraborty









Sub: Atalji loves to

May be he is a good primminister not best. He is getting very old. does not remember all of things. He is totally depend of ...


Posted by Sunil Puri






Disclaimer