March 05, 2009 17:14 IST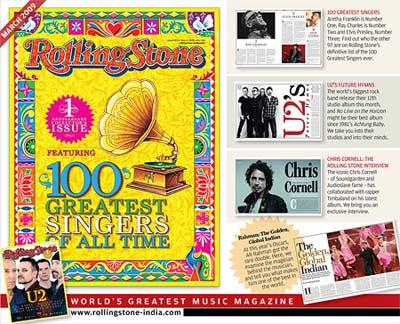 Aretha Franklin has topped the 100 Greatest Singers of All Time list by Rolling Stones magazine.
Ray Charles was at number two, followed by Elvis Presley [Images] and Sam Cooke. John Lennon rounded off the top five.
The special March issue which marks the first anniversary of the Indian edition of the magazine, also features a special section on A R Rahman's [Images] Oscar feat, and the band U2, whose 12 studio album releases this month.
The top 10 are:
1. Aretha Franklin
2. Ray Charles
3. Elvis Presley
4. Sam Cooke
5. John Lennon
6. Marvin Gaye
7. Bob Dylan
8. Otis Redding
9. Stevie Wonder
10. James Brown
List and photograph courtesy: Rolling Stones