March 03, 2009 15:28 IST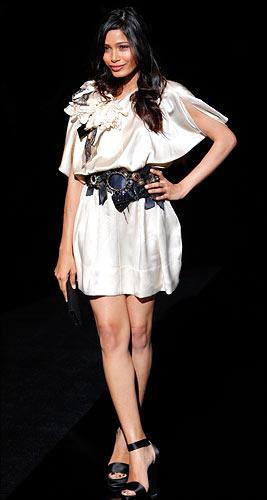 Freida Pinto, who was an unknown face before her film Slumdog Millionaire [Images] became a huge hit, recently took to the catwalk at renowned designer Dolce & Gabbana's fashion show in Italy [Images].
Petite Freida looked a million bucks in her frilly mini-dress, as she appeared on the ramp at the Milan fashion week, reports The Sun.
She was flanked by Hollywood actress Scarlet Johansson and Kate Hudson [Images], as she flaunted the frilly dress onstage.
Freida Pinto's [Images] acclaimed flick Slumdog Millionaire took the Oscars [Images] by storm.
Meanwhile, Freida has been signed up for a Woody Allen [Images] flick.
Text: ANI | Photopgraph: Stefano Rellandini/REUTERS