January 21, 2009 14:44 IST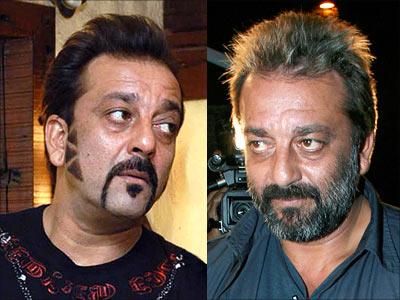 Sanjay Dutt seems to take his roles to heart.
On the sets of Rahul Dholakia's Lamha, Dutt put on an old, worn out face, complete with a salt and pepper beard.
But as he moved on to his next project a month later -- Soham Shah's Luck -- Dutt put on a fresh and younger face.
Designed by hairstylist Aalim, Dutt shows off a cool haircut now (on the left).
The Luck team will leave for a 10-day shoot to Cape Town, South Africa [Images], and then to Bangkok. Soham had earlier directed Karan Johar's [Images] production, Kaal, in 2005.
The film marks the debut of Shruti Haasan (Kamal Haasan's [Images] daughter). Imran Khan [Images], Mithun Chakraborthy, Danny Denzongpa, Ravi Kissen [Images] and Chitrakshi also star in the film.
Photograph (right): Manav Manglani/REUTERS