February 26, 2009 12:32 IST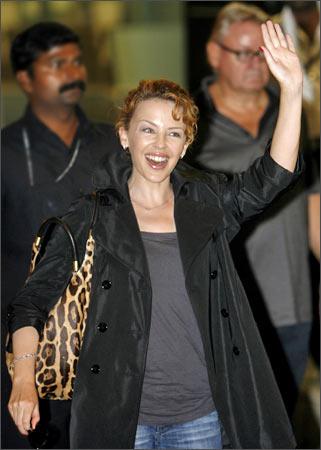 Hours after A R Rahman's triumphant return from the US after winning two Oscars [Images] for Slumdog Millionaire's [Images] Jai Ho, another star, this time from the land down under, arrived at the international airport in Mumbai [Images] on Thursday.
Aussie singer and pop star Kylie Minogue [Images] is in Mumbai to record a music video for the forthcoming Bollywood movie Blue which stars Akshay Kumar [Images], Sanjay Dutt [Images], Katrina Kaif [Images], Lara Dutta [Images] and Zayed Khan [Images].
The movie has its music scored by Rahman. The song was recorded in London [Images] by Kylie a few weeks ago. It seemed that Kylie liked the music when she first heard it and was keen on recording it with Rahman.
Farah Khan [Images] is choreographing the music video which will probably feature Sanjay Dutt and Akshay Kumar. 
The singer also has a duet with Sonu Nigam [Images] for the same film.
In the picture: Kylie waves to fans as she arrives in Mumbai on Thursday.
Photograph: Punit Paranjpe/REUTERS