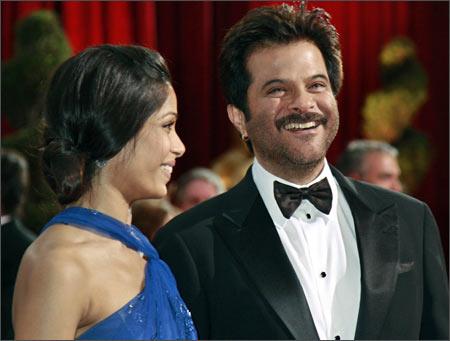 Did I ever feel I was walking the red carpet at the Oscars [Images]?" asks Anil Kapoor [Images]. "I thought I was flying. I felt I was on the magic carpet and the whole of India was with me."
It is many hours since Steven Spielberg [Images] announced the best picture win for Slumdog Millionaire [Images] at the Oscar ceremonies in Los Angeles on February 22, but Kapoor, who played the devious host of the Who Wants to be a Millionaire show in the film, is unable to sleep.
"This is like a dream I do not want to end," he says chatting with Rediff India Abroad's Arthur J Pais at 1 am from his Beverley Wilshire Hotel room in Hollywood.
"I thought of my father (producer Surinder Kapoor, the maker of films like Woh Saat Din) who was struggling in the 1960s and how he was not even invited for Filmfare awards even though he had a very good name in the industry. As I was flying on the magic carpet in Hollywood, I was carrying his blessings and I was soaring for him."
His voice gets chocked as he recollects his thoughts when Slumdog Millionaire went to win 8 of the 10 Oscar nominations in nine categories. Three of the Oscars went to Indians: A R Rahman [Images] took home the best composer and best composition trophies, and Resul Pookutty shared an Oscar for sound editing with two colleagues.
"There were some of the most influential filmmakers from many countries at the event," Kapoor continues. "And I thought here I am a boy from Chembur (north Mumbai [Images]) who had seen a bit of the struggles the kids in the film (those who are living in the slums) underwent in real life. And here I was standing next to some of the biggest directors and stars in the world in Hollywood. It was one of the most exciting and humbling experiences of my life. And it is something that I hope will inspire many young Indians."
Image: Mumbaikars Freida Pinto [Images] and Anil Kapoor celebrate the Oscars triumph. Photograph: Jason Reed/Reuters. Catch the whole interview tomorrow, only on rediff.com