February 24, 2009 15:22 IST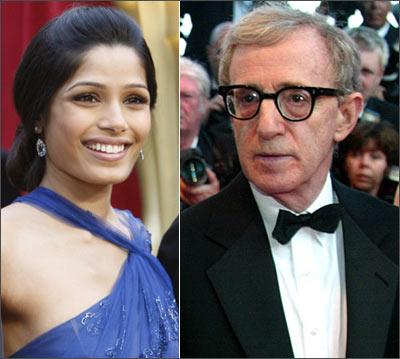 Freida Pinto, wow.

Even as the Slumdog Millionaire [Images] team recovers from its Oscar headrush, its stars are moving right along. Dev Patel [Images] has already signed a movie with Manoj Night Shyamalan, replacing actor Jesse McCartney for the villain's role in The Last Airbender.

And now Freida Pinto [Images], the film's luminous leading lady who has been wowing the world on the red carpet and across television interviews lining up to the Slumdog's Oscar glory, has gone one better and signed up a film with director Woody Allen [Images].

This is not just massive news for the 24-year-old Mumbai [Images] girl, but a spectacular breakthrough for any Indian actress. Allen was thanked profusely by Penelope Cruz [Images] in her Best Supporting actress acceptance speech yesterday, not just for giving her an award-winning role in his most recent, Vicky Christina Barcelona, but for 'having written over all these years some of the greatest characters for women.'

Allen, a three-time Oscar winner (and a 17-time nominee) has frequently seen actresses go on to Oscar glory, most recently Cruz. Before her, Mira Sorvino won for Mighty Aphrodite, Dianne Wiest won for Hannah And Her Sisters and Bullets Over Broadway, and, of course, Diane Keaton [Images] won for Allen's crown jewel, the magnificent 1977 picture, Annie Hall.

Critically considered one of the world's finest living filmmakers, Allen has made 43 films and stays inexplicably prolific. His next film -- Whatever Works, starring Seinfeld [Images] co-creator Larry David -- releases this summer, and in July he begins work on the yet-untitled film, which stars No Country For Old Men's Josh Brolin [Images], the legendary Sir Anthony Hopkins, and now, Freida Pinto.

Way to go, Mumbai girl.
Freida's photograph: Mario Anzuoni / REUTERS. Allen's photograph: Eric Gaillard / REUTERS