February 16, 2009 16:06 IST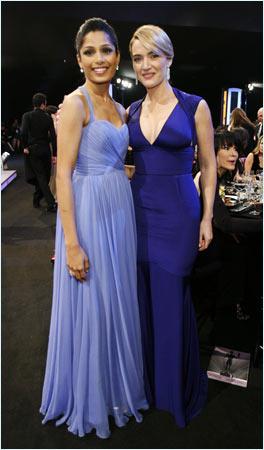 The rise to superstardom of Mumbai's [Images] own Freida Pinto [Images] has been so meteoric, it's almost impossible to believe.
From just another model in a city of so many aspiring to be the next Jesse Randhawa or Ujjwala Raut [Images], in a few short months Freida has become the toast of Tinsel Town.
Recently, she was featured in a full-page portrait in high fashion magazine Vogue.
Now, she's been profiled by the Los Angeles Times, in an article titled 'Slumdog Millionaire's [Images]' Freida Pinto gazes beyond India'.
The article describes how far Freida's come -- from jeans and t-shirts in Malad to Moschino on Mulholland Drive -- and also shows how quickly she's adjusted to fame.
For instance, the piece describes a typical day out on the town for Freida, wherein she wears Chanel shades, casually interacts with paparazzi and is on the look-out for Prada wrist-wear. Not bad for a middle-class girl!
And, on the red carpet too, she's been the talk of high-profile fashionistas. Whether it's Oscar de la Renta or Christian Lacroix haute couture, Zac Posen or Marchesa, everything she's donned has been a surefire hit.
It's great to see such interest in a home-town girl. One who has half of Hollywood asking the same questions: What's next for Freida Pinto? And how can I be a part of it?
Freida poses with Kate Winslet [Images]. Photograph: Mario Anzuoni/REUTERS