February 10, 2009 16:58 IST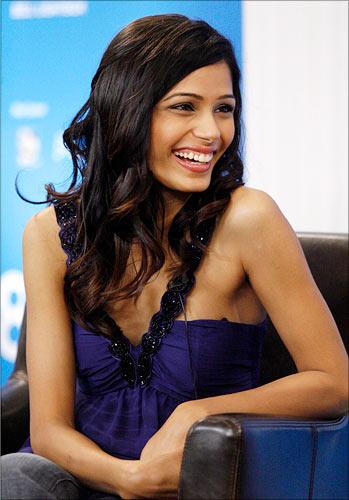 Whether in a simple salwar kameez as Latika in Slumdog Millionaire [Images] or traipsing down the red carpet in stunning designer-wear, Mumbai's [Images] own Freida Pinto [Images] is turning heads the world over. And her reputation as a true global beauty is growing. Quickly.
Now she's been tagged by high-society, high fashion magazine Vanity Fair for its The Vanities Girls section. Every month, in The Vanities Girls, VF chooses a 'promising' young actress and gives her a full-page portrait. Freida is the chosen one for the March 2009 issue.
Taking a page out of Marilyn Monroe's [Images] playbook, in her full-page portrait, Freida is in classic pin-up pose. The result? Classy, sophisticated, sexy.
Full marks, Freida!
Of course, recognition of this calibre, from such an elite magazine, pretty much makes it official: Freida Pinto's not just hot; she's red-hot!
Don't [Images] believe us? Take a look here.
Pinto smiles during news conference at the 33rd Toronto International Film Festival.
Photograph: Mike Cassese/REUTERS