February 03, 2009 14:49 IST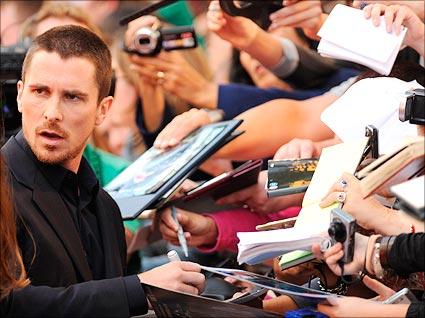 Anger-management is a term that Batman star Christian Bale [Images] seems to be ignorant of, for the actor recently went berserk on the sets of new film Terminator Salvation after being interrupted in a scene.
Bale flew into rage on the set of the film at Kirtland Air Force Base in New Mexico a few months back, yelling and screaming, and even went to the extent of threatening a director of photography.
In fact, The Dark Knight [Images] star even warned to stop production, reports The Daily Telegraph.
According to report by TMZ, the actor got enraged after Shane Hurlbut, director of cinematography, accidentally ruined a scene by walking onto the set.
Last year, the 34-year-old star was told he wouldn't face charges over an alleged attack on his mother and sister. 
Bale at the European Premiere of The Dark Knight in Leicester Square, central London [Images].
Text ANI | Photograph: Toby Melville/REUTERS