September 26, 2008 20:02 IST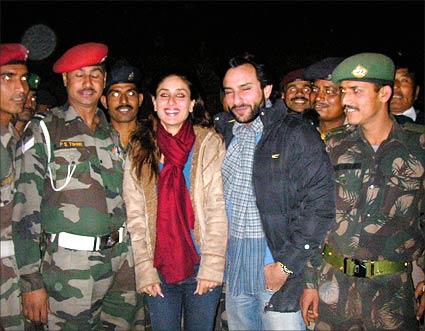 On the eve of Kareena Kapoor's [Images] 28th birthday, her mother Babita, suggested that Kareena should make it really special.
So not only did she have Saif Ali Khan [Images] accompanying her in the cold climates of north India, but she also got the opportunity to share her birthday with soldiers doing duty in Kargil [Images].
Both Kareena and Saif said they felt privileged to have spent time in the midst of these brave soldiers, who defend our country.
Kareena said, "As we were passing by Kargil one day prior to my birthday, mom told me to visit the jawans as it would be a unique experience and a once in a lifetime opportunity to get their blessings as well. "
"Both Saif and me were excited as well as amazed with the way the soldiers live in such extreme climates and still manage to keep calm under pressure. We wish them luck and not just them but all the soldiers of our country and wish to thank them for all that they have sacrificed and done for us."