September 23, 2008 17:45 IST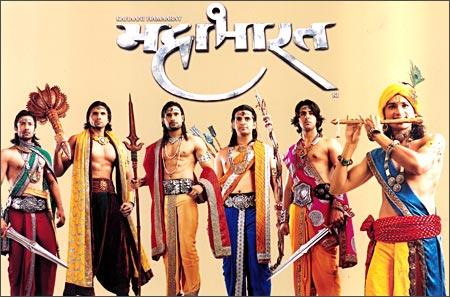 There were rumours that Ekta Kapoor's [Images] television show Kahaani Hamaray Mahaabhaarat Ki would be pulled off air, due to low TRPs.
But Ekta put all speculation to rest at a press conference held on September 22. Plus, she introduced the adult Pandavas and Kauravas, who will make their entry mid-October. Hiten Tejwani, who plays Karna, will also make his entry then.
The costumes and the look have changed from the minimalist look to a more colourful one.
Chetan Hansraj, who plays Bheema, told us more about it. "It is a modern Mahabharata [Images]. Keeping that in mind, Manish Malhotra was roped in to design the costumes. He has done a fantastic job. The change in look from black to colourful is needed, as it marks the golden period of Hastinapur, when the kingdom was most prosperous. For those, who have been critical about the costumes, they have to understand that we have tried to experiment. We can't serve them the same Mahabharata."

"There have been mixed reactions from the viewers and it will take time for the show to pick up," Hiten said. "Just give it some time --only 42 episodes have been aired. It's too early to speculate on the fate of the show. Let's talk about the TRP after a month."

"Although Mahabharata, as a story, is thousands of years old, it is still relevant to today's era," Ekta Kapoor said. "The show has been made for a wider audience -- not just Indians living in India but all over the world. This show features the biggest television stars in the greatest drama ever, and has been produced with the best of technique and grandeur that television as a medium allows today."
The show is being aired in Britain as well, with English subtitles. The Tamil version has been titled Mahabharatham and airs on weekdays on Raj TV at 7 pm.
Watch Kahaani Hamaray Mahaabhaarat Ki at 9 pm from Monday to Thursday on 9X.