September 22, 2008 18:54 IST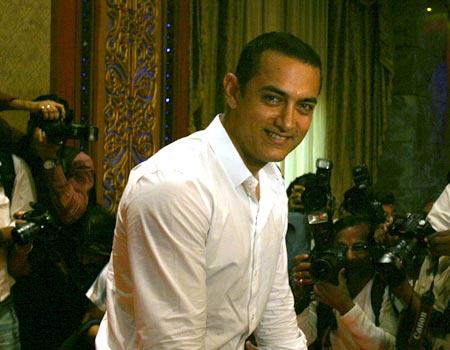 Aamir Khan is optimistic that his film Taare Zameen Par will make waves at the 81st Annual Academy Awards in February.
"TZP has made a strong impact on Indian audiences and I hope that it will make a strong impact in the minds of international audiences too," Aamir said at a press conference in Mumbai. The actor returned to Mumbai after the shooting of his film, Rajkumar Hirani's 3 Idiots, got cancelled in Ladakh due to bad weather.
"At this moment, I don't know whether this film will be selected in the foreign language films category but I will do my best to promote it," added Aamir.
Taare Zameen Par [Images] saw Aamir make his debut as a director. The film revolves around a dyslexic child (played by Darsheel Safary), and was one of the biggest hits of 2007. The Rs 5 crores film made Rs 130 crores at the box office.
"If you reach in the final stage, that itself is an achievement and as good as winning the Oscar," Aamir said. So far, only three films have managed an Oscar nom -- Mira Nair's Salaam Bombay, Mehboob Khan's Mother India and Ashutosh Gowariker's Lagaan [Images].
Aamir says that he is hopeful of scoring at the Oscars since people have 'seen his face' after Lagaan. "I am hopeful because people over there have seen my face and they know that I have acted in the film. So it will help me."
After Lagaan, Rang De Basanti [Images] (2006) had been sent to the Oscars but failed to be nominated.
When asked if he had figured out why Bosnia's No Man's Land beat Lagaan to an Oscar win, Aamir replied, "I don't feel Lagaan lost. Some people told me that Lagaan lost because it was too lengthy, others said that it had songs and dances and therefore it did not win. Some of them also felt that Americans didn't understand cricket, and so the film lost in the final. In my opinion, if you reach the top 5 category in Best Foreign Film's category, it is as good as winning. If all these reasons were true, Lagaan would have not been nominated in the final list."
Aamir said he will hire a public relations agent in Los Angeles to promote his film and also hold additional screenings so that more awareness is created around the film.
"Disney has brought the DVD rights of Taare Zameen Par. I will take their help to promote my film in Oscars," Aamir stated.
Photograph: Rajesh Karkera