September 18, 2008 20:31 IST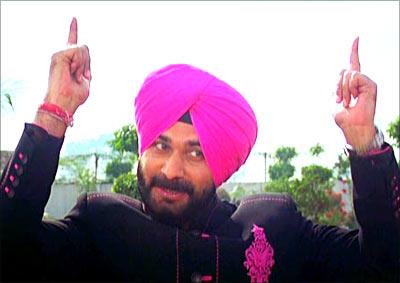 Cricketer, commentator, anchor and now actor Navjot Singh Siddhu seems to have done it all.
Siddhu's first Punjabi film Mera Pind - My Home has received rave reviews and is doing well in India as well as internationally. Recently, Bharatiya Janata Party leader L K Advani [Images] saw the film at New Delhi's [Images] Mahadev Auditorium and praised Siddhu for his work in the film.
"BJP had film stars and television artistes coming to the party but I have realised considerable talent of cricketer, commentator, parliamentarian and above all, anchor Navjot Singh Siddhu had the talent to become such a good actor. He has livened up things in film Mera Pind-My Home by his sheer presence," Advani said, after watching the film.

Advani, who used to review films when he was a film critic, said that this was the second film that had impressed him in last few months. "Anupam Kher [Images] had shown his film A Wednesday. That was the best film on terrorism. Now, Siddhuji has done an excellent job with this one," he said.

Mera Pind has been produced with joint title as a large number of audiences live abroad, Siddhu explained to rediff.com in his own unique style. Others present at the event were Rajnath Singh, Sushma Swaraj, Vijay Kumar Malhotra, Vijay Goel and former chief minister of Haryana Om Prakash Chautala.

The film is about an NRI, who returns to his village and wanting to do something. Harbhajan Mann co-stars in the film as well. It has been directed by the man, who shares his name with Prime Minister Dr Manmohan Singh [Images]. "We are sending a progressive message to the youth in Punjab," Mann said.