September 16, 2008 10:45 IST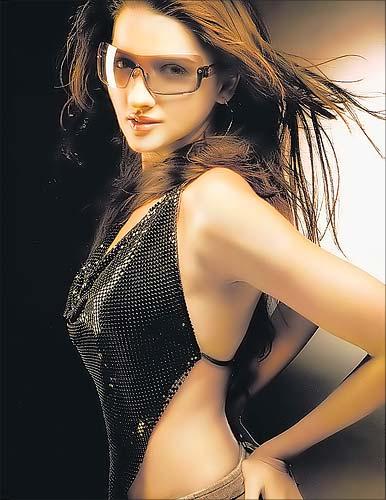 Shruti Seth is an example of how an actor metamorphosed into an anchor and established herself in the industry.
Be it Comedy Circus or the new show, Bollywood Club, on Zoom, Shruti has been successful in making a career out of compering shows on television. And she has been praised from people all over the country for her balanced act.
"The first season of Comedy Circus was better in terms of the participants," Shruti tell us. "This is not to demean the contestants of this season, but I feel there is a lot of stress on the script and packaging aspects of the show this time."
Shruti and Shakeel made quite a whacky pair in hosting Comedy Circus and would often send the audience into peels of laughter.
"Shakeel used to tease me about my dresses and since it was all in good humour, I enjoyed it," says Shruti. "I am a big fan of designer duo Gauri and Nayanika. But in my shows, I have mostly wore creations from Satya [Images] Paul and Bollywood Mischief."
However, she has not been signed on to host Kaate Ki Takkar made by the producers of the same show. Purbi Joshi will do the honours there.
Shruti is unperturbed by this. "You have to accept the fact that these are different shows so there is no reason why they would want me to continue," she said.
Shruti's other show, Bollywood Club -- Kismat Ka Konnection, is about all that happens behind the scenes -- the frustration, grit and, above all, the desire to make it big in Bollywood.

"There is no particular winner in this show. Everyone is a winner and will get the opportunity to showcase their talent in front of big names like Subhash Ghai [Images], Harry Baweja, Anees Bazmee and Vikram Bhatt," she says. "The participants, through their performance, will get an opportunity to convince the directors to give them work."
She gets emotional while talking about her own struggling days. "I am very lucky and grateful to God that I have achieved this much professionally until now. When I see contestants of reality shows struggling so much for a break, I realise how lucky I was."
Shruti is very selective while selecting her shows. "Shararat was on air for a marathon time. In fact, for such a long time that people still relate me with that show. Even with reality shows, I will participate only if I am convinced that it will have an impact on my career."
Shruti is doing two movies as well -- a film with UTV Spotboy and Ajay Chandok's Khalbali. She was last seen in Yash Raj's Ta Ra Rum Pum [Images].
Text: Srabanti Chakrabarti