September 16, 2008 14:57 IST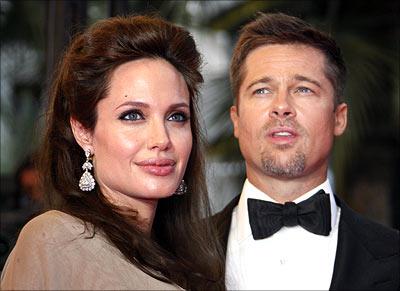 Brad Pitt and Angelina Jolie [Images] have been named the 'Most Powerful Actor and Actress in Hollywood' by The 2009 Guinness World Records.
The couple -- known as Brangelina, has ended Tom Cruise [Images] and Jennifer Aniston's [Images] reign, reports the Mirror.
According to the Guinness Book of World Records, Brangelina have hit the pinnacle by a combination of Internet searches, press stories and earnings.
Meanwhile, Samuel L. Jackson has been named the highest-earning actor for the 68 films he has taken part in over the years, raking in 4.1 billion pounds at the box office.
Director Tim Burton and actor Johnny Depp [Images] have become the most lucrative Hollywood partnership, grossing 550 million pounds from six movies.
Other new records include the Sugababes' hit About You Now -- the first to get to No1 in the charts just on net download sales.
Text: ANI | Photograph: Getty Images