September 16, 2008 13:58 IST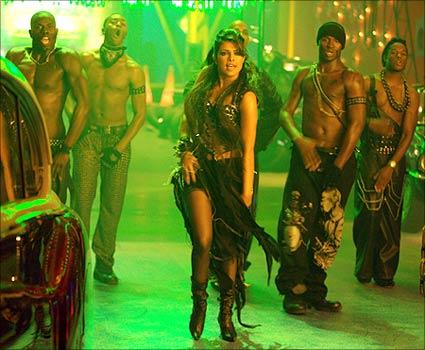 Those who have seen Priyanka Chopra's [Images] moves in the Oopcha song from Drona [Images] would agree that the actress looked amazing.
The dance routine was bindaas and beautifully choreograped on Priyanka and a group of dancers whom Goldie Behl, the director, roped in for the song.
During his visit to US, the director went to a high profile club in New Jersey and was completely bowled over by the dancers performing there.
"These boys were completely agile and could mould their bodies like rubber," Behl said.
On further inquiring about them Behl came to know that the dance group was called 'Son of a Bitch'.
"At that very moment I decided to bring these guys to Mumbai and do a song for Drona," Behl added.
"They practiced for two days and were ready for the final take. After the shooting was over they performed the entire song for us at one go as a thanksgiving gesture," Behl said.