September 15, 2008 14:54 IST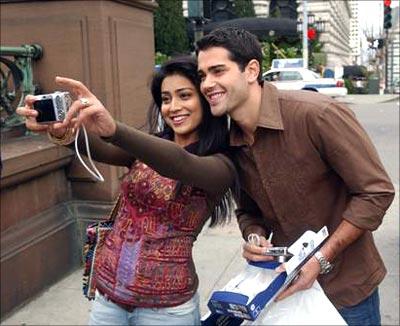 After romancing with Rajnikanth [Images] in Sivaji: The Boss, Tamil actress Shriya Saran [Images] stars with Jesse Metcafe (Eva Longoria's [Images] Gabby's one-time gorgeous gardener and lover in Desperate Housewives) in The Other End Of The Line.
Produced by Ashok Amritraj (Bringing Down The House and Raising Helen), The Other End Of The Line has been shot entirely in Mumbai and San Francisco. It is directed by James Dodson, and also stars Tara Sharma [Images] and Anupam Kher [Images].
The plot sees Shriya as an Indian credit card phone operator, who disguises herself as American and travels to San Francisco to meet the man (Metcafe) she falls in love with through work. She keeps her true identity as a secret but soon, it threatens to dampen her romance with Metcafe's character.
The film will release on October 31.