September 08, 2008 15:20 IST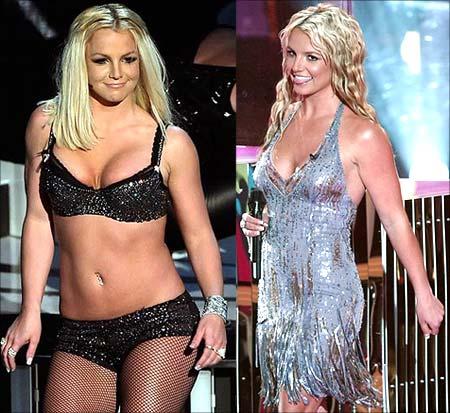 Britney Spears goes from flab to fab!
Take a look at what a year can do. The pictures say it all.  
Last year the singer cut a very sorry figure (no pun intended) at last year's MTV Video Music Awards. Prancing around in a sequined black bra and panty set, a visibly unfit Britney [Images] lip-synched her way to Gimme More.
Fastforward to this year's MTV Video Music Awards and what have you? A leaner and toned looking Britney. Not only did the singer look hot, she even won Best Female, Best Pop Video and Video of the Year -- for her Piece of Me clip.
.
Clad in a glittering silver dress and her hair in soft waves, Britney thanked God, her children and her record label for each of her award wins.
'Wow, thank you, I'm in shock right now. I was not expecting this,' Telegraph.co.uk quoted the singer as saying. 'This is such an honour to have this award right now.'
Looks like Britney is finally taking control of her life after her divorce, child custody battles, rehab and subsequent erratic behaviour.
Photograph: Getty Images