September 02, 2008 12:33 IST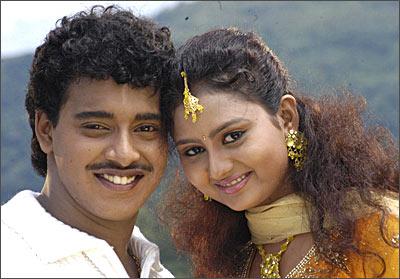 Teenager Amoolya, who made a sensational debut opposite Ganesh in Cheluvina Chiththaara (the Kannada remake of the Tamil film Kadhal) directed by S Narayan, is back with the filmmaker's next titled Chaithradha Chandrama opposite Narayan's teenaged son, Pankaaj.
Amoolya could not continue acting in films mainly because her school did not allow her to take leave for shootings. They had threatened to throw her out of school if she did.
The teenager, who could shoot for Chaithradha Chandrama only during her summer holidays, says that she is extremely happy to be back in films.
She says that her role in Chaithradha Chandrama is as challenging as the one in Cheluvina Chiththaara. "I felt great because I had the opportunity to work with Narayan uncle again. The technicians were also the same. I am sure the dances in this film will rock and songs will be a rage. And, Pankaaj! He really surprised me with his dance movements."
Chaithradha Chandrama  is written and directed by Narayan. He has also composed the music for the film, which is slated for release on September 4.
Text: R G Vijayasarathy