October 24, 2008 18:00 IST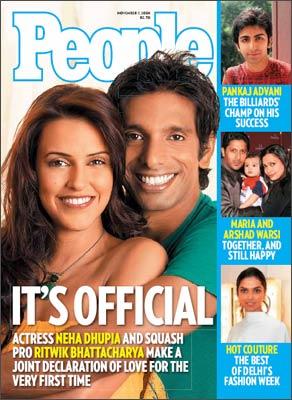 Neha Dhupia finally opened up about her two-year-old romance with squash pro Ritwik Bhattacharya. The couple have decided to go public with their relationship.
The two, who cannot agree on the circumstances surrounding their first meeting (she says, it was at the Defence Services Officers Institute in Delhi [Images]; he says, she walked off when a friend introduced him) told People magazine how they grew in love as they saw each other through ups and downs, wins and losses, sickness and health.
We present an excerpt from the interview, with kind permission from People.
On past relationships
Neha: We've seen each other through different relationships. It was all cool. Looking back, it feels really strange. I'm the same girl, who, until about four years ago, would step out of the room to give him and his girlfriend 'alone time'.
On taking the next step
Ritwik: While we cherished all the time that we spent together, because of the distance [he was in London [Images] at that time; she had moved from Delhi to Mumbai], we never took the next step. I don't think either of us was capable of handling a long distance relationship.  
On parents' reaction
Neha: My parents know that he is very important in my life. My brother, who wouldn't care about the other men I've dated, gets along really well with him. My dad really admires Ritwik. I see a lot of my dad in him.
Ritwik: I knew her dad before I knew her. My parents have also always known about her. I've been out of the house since I was 12 years old so they are quite chilled out. My parents love her. Neha is a very simple and grounded girl and that's why they like her.
On marriage
Neha: We haven't addressed the question of marriage. We'll cross the bridge when we come to it.
Ritwik: In all these years, we've grown and evolved as people. We've known each other from before we became famous. We are with each other for the right reasons.