October 24, 2008 16:43 IST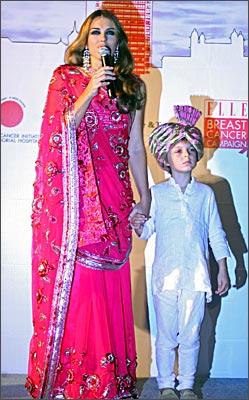 Former actress Elizabeth Hurley [Images] spiced up a Breast Cancer Awareness campaign in Mumbai by dressing as an Indian princess -- with son Damian in a traditional turban.
The 43-year-old wore a pink sari to launch the charity bash, reports the Sun.
Damian, six, is her son by American tycoon Steve Bing, 43.
Recently, Hurley has revealed that she will soon launch her farm produced low-fat products to provide women with healthier alternatives.
A devoted supporter of the Breast Cancer Research Foundation, the former actress confessed that the organic food line might help reduce the risk of breast cancer.
Text: ANI | Photograph: Pal Pillai/Getty Images