October 21, 2008 14:31 IST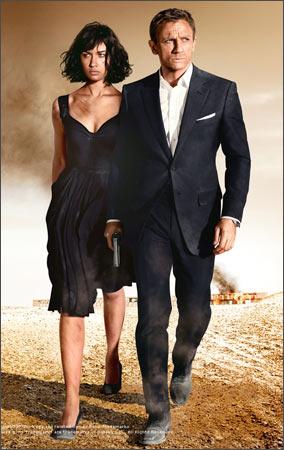 Once upon a time, long, long ago, decades before Thomas Friedman wrote the The World Is Flat, only the choicest Hollywood's hits trickled into the Indian subcontinent, usually months after the United States and international launches, if and when we were lucky.
Then, Hollywood's presence in India was sporadic and sudden, blockbusters coming in past their prime, random art-house films opening to perplexed acclaim. There seemed to be no strategy, no planning, just a streak of disaster movies and dramas coming in as and if they pleased.
Later, films like Jurassic Park and Titanic [Images] made the cut, but little else. Now, with the emergence of multiplexes in India's major metros, there's plenty of screen space to go around. Add to that, numerous Bollywood-Hollywood linkups and the international media's ever ubiquitous 'India story', and suddenly India's the emerging market of choice for American studios.
We're practically flooded with Hollywood releases. Yes, even the bad ones, like Al Pacino [Images] and Robert DeNiro's recent gagger Righteous Kill [Images]. Now comes news that, for the first time ever, a major Hollywood release will hit India's shores before it launches domestically in the US, a true milestone for conscious Indian moviegoers.

The record-setting film? It's the next James Bond [Images] installment, Quantum of Solace, at least according to a September 30 Reuters UK report citing Sony Pictures India's Kercy Daruwalla. The date's set for November 7, beating the North America release, November 14, by a full week. 
Of all the potential candidates to break this ceiling, it's no surprise that 007 was given the honour. The guy's got equity in India. Lot's of it. Even when the stream of Hollywood films into India was more like a dribble, James Bond cut an iconic figure, much beloved and oft-quoted by India's English speaking, movie-going population. Be it Sean Connery [Images] or Roger Moore, and later Pierce Brosnan [Images], Indians adored James Bond.
In fact, demand for the dapper British agent grew so popular that in 2004, a string of old Bond films were dubbed in Hindi and Tamil and re-released across India with much hype and to great fanfare, with such memorable titles as Pyar Dushman Se [The Spy Who Loved Me, 1977]. Recent installments -- like Daniel Craig's [Images] first foray into the series, 2006's Casino Royale, which was released on over 400 prints in India -- have also enjoyed massive success.
That's to say nothing of Bond, who himself has a history with India. In 1983's Octopussy, Roger Moore travelled to Udaipur's Monsoon Palace to vanquish the evil exiled Afghan prince Kamal Khan [Louis Jourdan], his mysterious sidekick Octopussy [Maud Adams] and his brutish Indian enforcer Gobinda [Kabir Bedi].
Interestingly, flip Bond's infamous '007' around and you get the amazing number of prints Solace will be released on in India. Yep, 700! And dubbed into regional languages Hindi, Tamil and Telegu, too!
By all accounts, it should end up as the biggest Hollywood release in India for 2008. Directed by Marc Forster, Solace picks up where things left off in the critically acclaimed Casino Royale, the smash hit that reinvigorated the Bond series after a late 1990s and early 2000s slump.