October 16, 2008 12:18 IST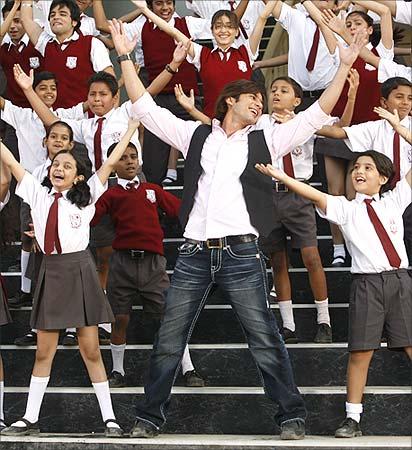 Wondering what Shahid Kapur [Images] has been up to? Well, watch Karzzzz to find out.
No, you will not see the actor in the Karz remake. Rather what you will see is the promos of Big Pictures' Paathshala when you go to watch Himesh Reshammiya's [Images] Karzzzz on Friday.
Incidently, the company is the one releasing Karzzzz as well.
Besides Shahid, Paathshala also stars Nana Patekar [Images], Ayesha Takia [Images], Sushant Singh and popular child artistes, Swini Khare [Cheeni Kum], Ali Haji [Fanaa [Images], Partner] and Dwij Yadav [Nanhe Jaisalmer].
The film, which is directed by award-winning Marathi film director, Milind Ukey, is set against the backdrop of the Indian education system.
The film releases worldwide in January next.
Text: rediff Entertainment Bureau