October 14, 2008 16:43 IST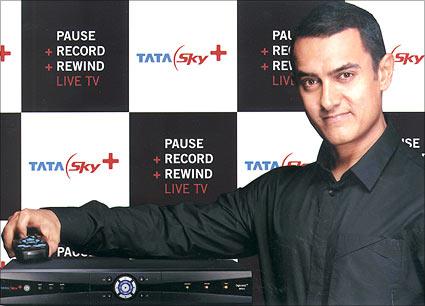 Aamir Khan and Shah Rukh Khan's [Images] rivalry is well known at the box office.
Shah Rukh has always claimed that he is the King of the box office whereas Aamir has always let his work speak for itself.
If Shah Rukh gave Om Shanti Om [Images] and Chak De last year, then Aamir surprised everyone with his directorial debut, Taare Zameen Par [Images].
Now, the two have taken their rivalry to another level -- brands.
While Shah Rukh is the brand ambassador of Dish TV, Aamir is representing Tata Sky.
And like Shah Rukh, Aamir takes his responsibilities seriously. On Tuesday afternoon, the actor was present at the brand's product launch.
Asked how he looks at the competition from Dish TV, Aamir joked and said, "Dish TV? Woh Kya Hai?"
To a question whether it becomes more difficult for him to act in advertisements when his adversary is Shah Rukh and Aamir said, "I don't follow others. I do what I feel is right. I only concentrate on what I have to do."
Asked if his brand was more for classes than the masses, Aamir replied, "That is not true. I believe in quality of the brand that is being promoted. I am a mass hero and I too have mass appeal."