October 11, 2008 13:38 IST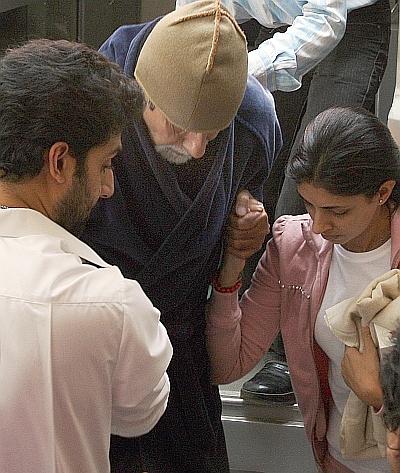 Superstar Amitabh Bachchan [Images], who turned 66 on Saturday, has been admitted to Lilavati Hospital in Mumbai after he complained of abdominal pain, hospital sources said.
"There is no cause for worry or concern. We are giving him the best possible treatment. He will soon be up and above and go back to work," hospital spokesman Mohanrajan said, adding Bachchan had undergone tests and his condition was "stable".

Bachchan has undergone blood investigation and CT scan of the abdomen and reports are awaited, a bulletin read by Mohanranjan said.
The cause of pain is being investigated by a team of doctors and the report will be available tomorrow morning based on which further treatment will be decided, it said.
Bachchan had been at home since morning, receiving friends and relatives who had come to wish him. The actor is not be celebrating the occasion owing to his mother Teji Bachchan's demise in December 2007.
Bachchan is in suite number 1101 on the 11th floor of the hospital with wife Jaya Bachchan, son Abhishekh, daughter-in-law Aishwarya and other relatives by his side.

Fans gathered outside 'Jalsa' in the suburbs were shocked to see an ambulance entering the bungalow and then taking the actor, who was accompanied by son Abhishek, to the hospital.

Bachchan's daughter Shweta Nanda, daughter-in-law Aishwarya Rai [Images] and family friend and Samajwadi Party leader Amar Singh [Images] followed the ambulance in a car.

The actor, who is shooting for Teen Patti in the city, took a day off to be with his family and grand children who have come from Delhi [Images].
In November 2005, Bachchan was operated at Mumbai's Leelavati hospital after he developed intestinal problems. He could resume work only after a two-month break.
Image: Abhishek and Shweta help their father Amitabh Bachchan get off the ambulance after arriving at the hospital.
Photograph: Indranil Mukherjee/AFP/Getty Images