November 25, 2008 15:12 IST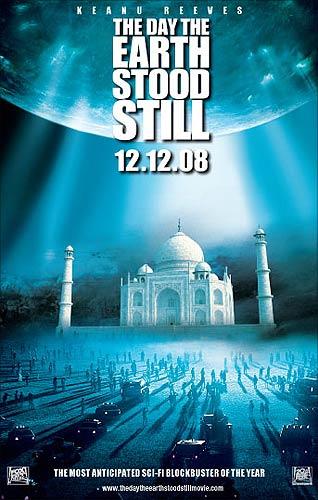 Is the Taj Mahal [Images], man's greatest profession of love to woman, under alien attack!?!
Nope, thankfully. Turns out, this picture is just a specially created visual for the Scott Derickson-directed The Day the Earth Stood Still, a contemporary reinvention of the 1951 classic sci-fi flick. This new rendition stars Keanu Reeves [Images] of The Matrix fame alongside Jennifer Connelly [Images], Kathy Bates and John Cleese [Images].
Reeves plays Klaatu, an alien and a self-described 'friend to the Earth' who warns that humankind as we know it is in serious jeopardy. He must convince world leaders to act now or face dire consequences.
But why exactly is the Taj Mahal so prominently involved? We never quite found out. Guess we'll just have to wait and see! The film releases on December 12 in the US as well as India.