November 24, 2008 19:51 IST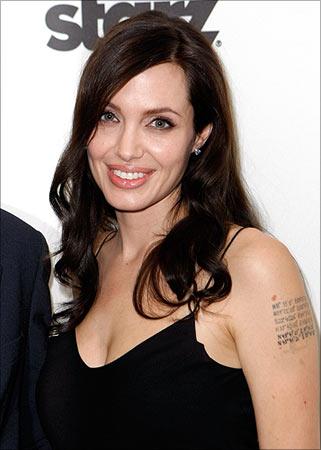 Pick up one of the innumerable lifestyle magazines around the world, and chances are you'll find a story that is positively glowing in its depiction of super couple Angelina Jolie [Images] and Brad Pitt [Images], aka Brangalina.
To be sure, it's been a long road to the top for Angelina: she's been, alternately, (1) the wild child of a famous actor, a relationship torn asunder by enmity (2) the little-bit-too-open lover of a couple of Hollywood badboys and (3) the lady who tore apart Hollywood's First Couple -- Jennifer Aniston [Images] and Brad Pitt.
And that's not the half of it: teenaged drug use, vials of blood exchanged as wedding vows, public kisses, lesbian lovers, secret sex rooms and more.
But, lately, it's as if the luscious-lipped, luminescent-eyed woman can do no wrong. Her every mention is accompanied by effusive praise of her uber-beautiful family, her acting prowess, her taste in French Chateaus and, last but not least, her charitable works.
Turns out, there's a reason for all that positive coverage, and it's a tad bit sinister.
Sources in the magazine world have raised the alarm that Angelina is strong-arming the press into positive coverage, by withholding the intimate access they need to push copies, unless they sign agreements assuring Angelina her carefully crafted image will be maintained.
For example, it's been reported that after the recent birth of twins Knox and Vivienne, the Brangelina offered the first photographs of their newborns for the ludicrous price-tag of almost Rs 70 crore; but get this -- in addition to the oodles and oodles of cash, the couple wanted a hand in the editorial content, journalistic sacrilege!
People magazine, which won the bid and ponied up the cash, of course has denied this agreement. What happened in those shady, smoke-filled backrooms, we'll never know. Only People does. But we do know is that the issue in question was the best-selling for People in seven years. The lesson learned? It pays to play Angelina's game.
So, of course, some have been willing to go along with the charades; the US publishing industry has taken a woeful turn for the worst in recent years and mags need all the exclusive, big-time stories they can get, even if they must sacrifice journalistic integrity in the process.
So, this week, as you read interviews about Angelina's new film, Clint Eastwood's Changeling, keep in mind that the content has likely been adulterated and altered to fit Ms Jolie's marketing image de jour. Kinda takes the fun out of it, doesn't it?
Photograph: Michael Buckner/Getty Images