May 29, 2008 20:06 IST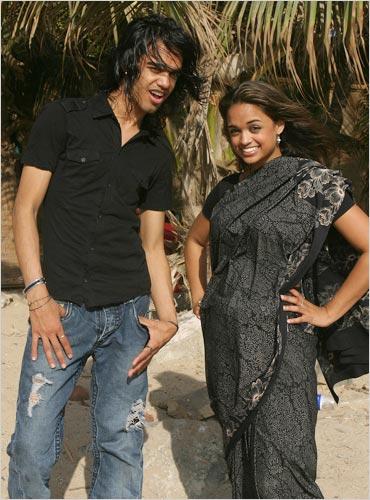 After conquering the hearts and minds of teenagers across America, Sanjaya Malakar of American Idol fame has turned his brilliant smile to India.
The 18-year old heart-throb, son of a Bengali father and an Italian-American mother, is back in India 'for the first time since the fifth standard.'
Of course, that first experience, spent in Bengali and Bangladeshi villages, differs greatly from this current romp through the sub-continent, spent in fancy hotels in Mumbai.
His gorgeous sister Shyamali has accompanied him, and the two are busy soaking up the sights and sounds of the city.
"I've been doing a lot of travelling," Sanjaya reveals. "I hope to increase my knowledge of how culture influences music. I have so much to learn from Indian classical. It's so complicated!"
On the itinerary is a major advertising campaign for Nationwide, a large American insurance company. Sanjaya, best known for hitting the high notes and boogying on-stage, apparently is quite the actor. Though it was his first major advertising gig, Sanjaya reportedly pulled it off flawlessly, impressing Nationwide execs and creative types alike.
What else does he have planned? "Some fun, some sun, but mostly just work. I'm really excited to get my first album recorded and in stores; because of that, music always stays at the forefront of my mind."
Photograph: Rajesh Karkera