May 28, 2008 15:09 IST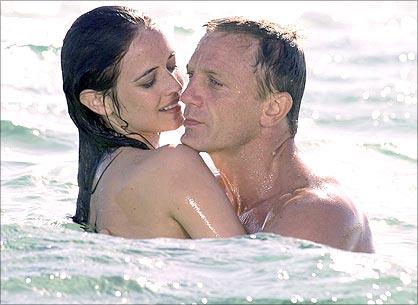 A hundred years ago, Ian Lancaster Fleming was born. And a few decades later, the coolest spy in the world came alive.
'The name is Bond, James Bond [Images].' This was the name of Fleming's alter ego, which was immortalised in books and later on in the 007 movies.
And the man who created the suave spy would have celebrated his 100 birthday today had he been alive.
Born Ian Lancaster Fleming on 28 May 1908, in London [Images], the Englishman gave birth to 007 on his island retreat Goldeneye, on the Jamaican coast.
Flemming led a very eventful life, very much like the spy he created imbibing in Bond some of his own traits and tastes. According to Los Angeles Times, Flemming was fond of spirits, cigarettes and women. 
He started off his career with Reuters, then a stockbroker, and a stint in the Royal Navy. He started work on his first 007book when he was 44. He wrote 12 books in all.
According to Los Angeles Times, the author 'rose early, went for a swim in the cove below his home, then went to work on a portable Remington typewriter for three hours.'
The first Bond novel, Casino Royale, came out in 1953. However, it was his sixth novel Dr No that was made into the first James Bond film. The 1962 flick starring Sean Connery [Images] and Ursula Andress was a huge hit and spawned many films featuring other English actors like Roger Moore, Timothy Dalton, Pierce Brosnan [Images] and most recently, Daniel Craig [Images], as the ruthless spy.
Though he is no longer with us, his creation will forever live on.
In the picture: A still from Casino Royale.