May 22, 2008 18:48 IST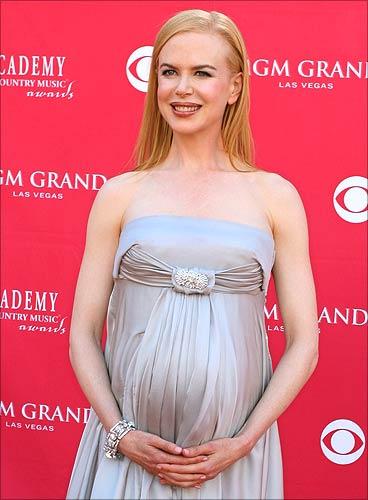 Pregnant Nicole Kidman [Images] has reportedly followed in the footsteps of Demi Moore [Images], Britney Spears [Images] and Christina Aguilera [Images] and posed in the buff for a magazine cover.
The news comes from website justjared, which stated that the Oscar winning Aussie star had posed nude for the cover shot at an LA studio. The website also states that the man taking the photographs was none other than Patrick Demarchelier, known for his images of Princess Diana, reports News.com.au.
Demarchelier has previously worked with Kidman for Vanity Fair.
OK! magazine also reported that the actress had wanted to wait until her eighth month before the shots were taken.
Kidman proudly showed off her baby bump last weekend at the Country Music Awards in Las Vegas [Images]. This will be her first biological child. She has two adopted children with Tom Cruise [Images].
Text: ANI | Photograph: Getty Images