May 20, 2008 19:08 IST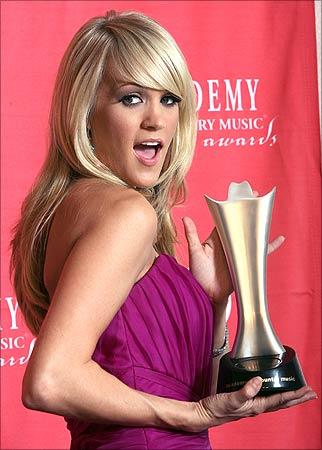 Country star Carrie Underwood has been voted the 'Most Popular American Idol' star ever.
The 2005 Idol winner Underwood won 54 percent of the vote in an AOL Television poll, reports Contactmusic.
Kelly Clarkson [Images], the first Idol winner in 2002, came in a distant second for most popular, pulling in only 26 percent of the vote from 1.3 million fans who took part.
Meanwhile, Simon Cowell wants his pals Telly duo Geordies Anthony McPartlin and Declan Donnelly, popularly known as Ant and Dec, to take over as hosts of his American Idol show.
The chances of McPartlin and Donnelly to join could come in the next two or three months when current show host Ryan Seacrest is expected to take over a top US talk show from veteran host Larry King.
In the picture: Carrie Underwood poses with her Female Vocalist of the Year award during the 43rd annual Academy Of Country Music Awards.
Text: ANI | Photograph: Getty Images