May 15, 2008 15:41 IST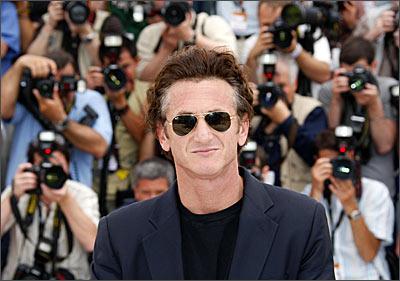 Just days after Kal Penn -- Hollywood's desi actor d'jour -- wrote a letter urging Democrats to show solidarity for US Presidential hopeful Barack Obama, another Hollywood Penn tempered the enthusiasm with another take on the situation.
Sean Penn [Images], president of this year's Cannes Film Festival jury, commenced the annual event with a political twist by opining on Obama, saying the junior US Senator from Illinois has a 'lot to live up to,' hardly the ringing endorsement one might expect from the Academy Award winning actor and director.
Penn, who was against US President George W Bush [Images] and America's neo-conservative movement, said at a press conference for the film Blindness that he doesn't have a single candidate he is endorsing, in clear hesitation to throw his weight behind Mr Obama.
While most of Hollywood seems enthralled with the prospects of an Obama presidency, Penn showed temperance, saying 'I'm certainly interested and excited by the hope that Barack Obama is inspiring,' before accusing Obama of a 'phenomenally inhuman and unconstitutional' voting record. Perhaps it's because Penn senses the gravity of the situation, as he himself said: 'This is the most important election, certainly in my lifetime, and maybe ever.'
Joining Penn for the screening of Blindness, a thriller starring Julianne Moore [Images], was fellow judge Natalie Portman [Images], who made it clear she endorsed neither Obama or his Democratic opponent Hillary Clinton. She did add that 2008 is an 'exciting year for our politics' and said for the first time in a while, Americans had a choice of 'who they like better instead of who they hate least'.
Penn's been the recipient of many barbs and attacks from America's right-wing, urging him to leave his politics off the stage and screen, and instead focus on his art. But Penn, seemingly in response to his attackers, said yesterday that it's not possible to detach politics from film.
Photograph: Getty Images